Tristan's triste tryst in Sussex
Nikolaus Lehnhoff's minimalist production of Tristan und Isolde at Glyndebourne depends for its effect largely on Roland Aeschlimann's curving abstract sets and Robin Carter's amazing lighting effects. Andrea Schmidt-Futterer's mediaeval/Japanese warrior/Ku Klux Klan (in the case of the demented-looking Act III shepherd) costumes are the least successful element; though they do have the merit, when combined with Carter's shadow-casting lighting, of concealing the fuller Wagnerian figure. This is the third outing for this production, which everyone says reflects Lehnhoff's early association with Wieland Wagner, whose 1964 Bayreuth Tristan provided the template for all future abstract-ish stagings. Though I've seen Tristan done in 1920s/30s costume, aboard a cruise ship (or ocean liner) and in a casualty department of a hospital, there's a great deal to be said in favour of a production where the setting is not determinate. Thought it's always risky, as a permanent abstract set courts boredom, it does allow us to think Wagnerian deep thoughts (or feel alarming feelings) about annihilation and the just-conceivable pleasures of the extinction of desire.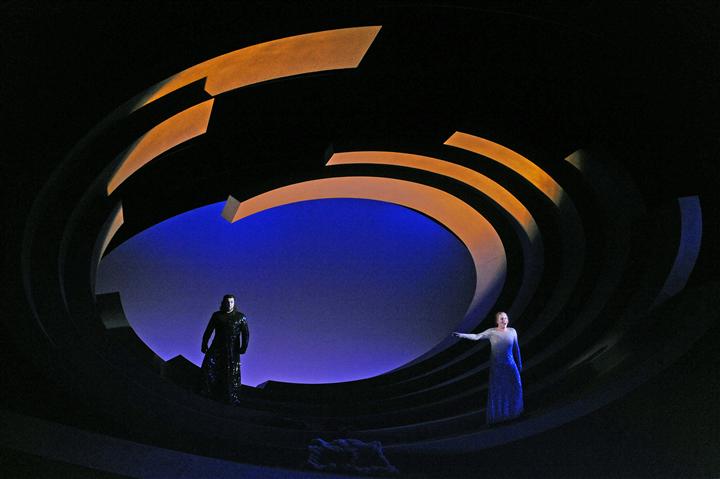 (Photograph: Alastair Muir)
In the past, the greatest virtue of this wonderful production was Nina Stemme's Isolde (which we get to see and hear again this autumn in Covent Garden's new production). We saw this again in the cinema, and it was a revelation, mostly because of the camera-work. Close-ups revealed what you can't see even from the front row of Glyndebourne (or any other house, come to that), the splendid, subtle acting of Ms Stemme and her Tristan, Robert Gambill. The DVD is very worth owning.
This time around, the real excitement was in the pit, as the Glyndebourne music director, 37-year-old Vladimir Jurowski, was conducting his first Tristan. It was a near-total success, I'd say. He was acutely sensitive to the Isolde, Anja Kampe's, need for a little orchestral restraint, especially in the Liebestod, and he helped Torsten Kerl, the Tristan, who was very careful to reserve some puff for Act III. But Jurowski made it clear from the beginning that he was revelling in the long Wagnerian phrasing, so much so that by the time he came to the Act III prelude, it was impossible even to hear the brass or woodwinds so much as take a breath. Everything flowed inexorably, sweeping along, but with all the detail intact. Despite the accelerating whoosh of the music, the cor anglais solo of Act III has never seemed so defined, so precise or so lengthy (or so beautiful).
Daniel Dooner's revival direction needs some attention. He has forgotten the first rule of opera - that everybody on the stage is singing to somebody else, and only infrequently to the audience. True, the solipsism of Tristan und Isolde makes directing them difficult - but the problem of their very odd relationship isn't solved by having them simply stand and deliver to the stalls, especially not in this awkward, curvy set.
Some critics adored Ms Kampe's Isolde, and she couldn't be faulted for intonation or phrasing; but the memory of Nina Stemme nagged at my consciousness all the way through the opera. (I've seen her develop from singing the role at Salzburg, when she was a powerful lyric soprano, to becoming a full-fledged dramatic soprano in her first Glyndebourne Isolde.) Still, again thanks to Carter's lighting, the Nirvana-image of her shimmering and then vanishing at the end of the Liebestod, transfigured even if she's deceiving herself about seeing Tristan ever again, is unforgettable.
Two other fine performances marked the evening. The first was Sarah Connolly's luscious Brangäne; she had stepped in when Kristine Jepson was very sadly unable to make what would have been her house début. Ms Connolly sang the role with Jurowski in December, 2008, but that was a concert performance. Second was Georg Zeppenfeld's King Mark, because he has such a beautiful voice - a rare, truly lyrical bass.