Second city's cultural feast
I confess I've only paid flying visits to Manchester - though I think of it as England's second city - and both of those were for purposes of plugging a book. Indeed, prior to last week I had seen nothing of Manchester save the large office building housing the TV and radio studios of BBC Manchester. Though I saw these again, making fleeting appearances on both media, I also managed to see something of this half-dilapidated, half-modernised city, its centre full of pompous Victorian municipal buildings, of which most seemed to have been converted into night-clubs, though the famous Free Trade Hall is now a Radisson luxury hotel.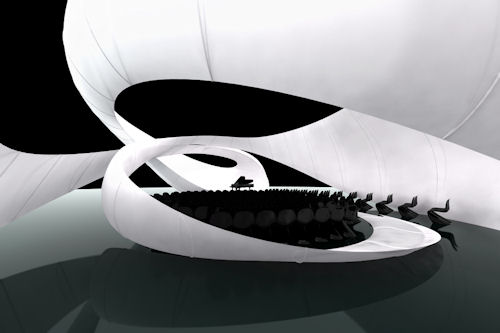 We were there for the tail-end of the biennial Manchester International Festival. To declare an interest up-front, I was there to work, as I was the consultant for putting together the final event, Festival Feast. We fed 2,000 Mancunians a free five-course meal of Spanish, Caribbean, Chinese, Indian and English dishes. So popular was it that every single place at the four sittings had been taken by an hour and ten minutes after the booking lines opened in the spring. On the initiative of the white-hot Festival Director, Alex Poots, who is a ball of educated energy combined with flawless taste, we persuaded my Oxford Symposium on Food and Cookery colleagues Claudia Roden, Fuchsia Dunlop and Camellia and Namita Panjabi, to collaborate with Manchester Restaurants, Evuna, Yang Sing and Zouk respectively, to make 2,000 portions each of ajo blanco con uvas, zhong shui jiao and rogani murg, using recipes supplied by the internationally celebrated cookery writers. Two Michelin-starred Manchester chef Paul Heathcote was responsible for making Levi Roots' jerk chicken and his own, delicious, summer pudding.
The USP of the MIF is that every work is a new commission, and I am pleased to say that every event I saw was world-class. Gustav Metzger's "Flailing Trees" was the emblem of the MIF. A public art installation of 21 uprooted willow trees cemented upside-down into a block of concrete, it was a slight disappointment. The idea was that the dying roots waved very slightly in the breeze (it was nasty weather with occasional bursts of sunshine) where the branches ought to be, subverting the natural order in a literal way (roots = branches) and substituting something dead for a live tree. I thought the trunks too slender to bear such weighty meaning, though siting the sculpture in a city centre did raise a (fairly feeble) environmental question. Not Metzger's personal best.
On the other hand the collaboration of radical theatre company Punchdrunk with BBC filmmaker Adam Curtis and composer Damon Albarn (and the Kronos Quartet who recorded his original music), "It Felt Like a Kiss," was a world-class installation cum performance. You began by taking, in a group of eight, the lift to the 6th floor of a nondescript office building, where you wandered through various spooky amusement park/ghost train /house of horror rooms, with films, and obstacles hanging from the ceiling to be negotiated.
Next you trailed through room after room of American houses of the 1960s, fully furnished with everything from fridges to books, belonging to all manner and classes of people, from suburban middle-class to underclass people living on food stamps. You descended floors (five altogether), and watched Adam Curtis's superbly edited film, whose subject was a comprehensive conspiracy on the part of the USA to remake the entire world in its own highly attractive (in the rock 'n' roll era) image. It was replete with every nonsense ever uttered or written about the Kennedy and other assassinations, the death of Marilyn Monroe, the invasion of Cuba - you get the picture - but so well put together that you were happy to suspend disbelief and blame the CIA for absolutely everything.
Following the film you traipsed around some more rooms, ending up in a hospital ward where you were asked to fill in five pages of questionnaires asking your views on personal freedom and other such trivial matters, as well as taking a personality assessment test that measured whether you were inner- or outer-directed (in David Riesman's jargon of the period, which they inexplicably neglected to use). Next you were told to stick tightly together in your group of eight, and, for your own safety, follow the directions shown on the screens (some of which were CCTV showing yourself moving down the scary corridors). Then, you guessed it, you were attacked by a masked man wielding a chain saw. Of course. Having escaped him, you were funnelled down a series of corridors through electrically controlled gates and doors that performed a triage, and made it impossible to remain together as a group. Finally, there was no way out, except on your own - and the walls bore the caption: this is individual freedom; how do you like it?
We'd been there for hours. It was completely daft. I loved it.
"End of the Road" by Young@Heart and the No Theater company was an extraordinarily poignant, not at all sentimental sort of geriatric review by singers aged 73 to 90, who performed songs ranging from "When I Grow to Old to Dream" to the latest Bruce Springsteen number. OK, it tugged at the heartstrings to know that none of the original 1982 troupe were still alive, and that this is their last-ever (but tenth?) tour of Europe, but you were never made to feel sorry for any of them. It was a privilege to see this alluring, vivid show with its terrific sets and amazingly versatile musicianship of the (younger) band. (The conductor played the piano with his right hand, the electric bass with his left. How did he pluck the strings?)
Of course it was Laurie Anderson and Lou Reed in concert that made me feel my age - they are my age. It was loud, though Laurie's party trick (besides singing in a basso profundo) is whispering on pitch, and it was exciting. I loved Anderson's story-telling, and cannot account for never having been before to one of her gigs.
Alex Poots's greatest coup is probably to have got Zaha Hadid to build a chamber music hall structure inside the Manchester Art Gallery, where three great musicians gave nine recitals of unaccompanied works by Bach. We heard one of the extra lunchtime recitals by a cellist from the Royal Northern College of Music, Stephanie Oade, the Cello Suite No 2 in D minor. Sitting in the middle of the white fabric and wire structure that swirls around the gallery, ranging in width from a ribbon to a substantial roof - in effect a Moebius strip with volume - Ms Oade and her cello seemed to be a single physical entity responding to the structure, as the architecture seems to be Ms Hadad's spatial and visual response to the music.
But what everyone really wants to know is: was Rufus Wainwright's first opera a success? Prima Donna sounded in advance to be based on Callas or someone like her attempting a comeback. It wasn't. Wainwright's French-lite libretto, done with Bernadette Colomine, is its own thing, the tale of a diva of French-Canadian origin, Régine Saint Laurent, who has captured Paris at the première of a new opera about Eleanor of Aquitaine, but who inexplicably loses her voice on the second night (in a flashback we learn that the reason was sexual jealousy - the usual stuff about the tenor who can't keep his trousers on), leaving nothing but, myths, memories and a recording of the performance. Six years later, can she take up exactly where she left off, and perform her greatest role again?
Designer Antony McDonald has made it look magical, and the young director Daniel Kramer has got strikingly good performances from each of the six characters by the simply expediency of making them think about who they are singing to, so that the dramatic tension never flags. Janis Kelly as the diva is particularly fine, in wonderful voice, able to float her high soprano convincingly above the 65-piece orchestra, warmly conducted by Pierre-André Valade. And she looks divine - beautiful and vulnerable. William Joyner brilliantly acted the role of the journalist who has come to interview the diva, and whom she hopes to make her lover. But the role of André is not his fach; it lies too high for his strong tenor voice, and the strain was audible.
And the music? It was so melodic, tuneful and lushly orchestrated that (I hear) some musical big-wigs complained that Wainwright had sold the pass. The reversion to late romanticism, however well-suited it was to the subject, annoyed them in its wilful ignoring of the hard-won operatic gains made by Richard Strauss, Schönberg Berg and Britten, let alone Ligeti and Adams.
Yes, there were luscious echoes of Massenet, and Puccini, come to that. But it was totally apt, theatrically pertinent and shamelessly, enjoyably rich, like 90% cocoa-butter chocolate. Moreover, how can you fail to love an opera in which the tenor jilts the soprano for Mme Butterfly? It's good-natured and good-humoured, and tens of thousands of young people will see this and instantly get the point of opera. Bravo, Rufus!