A fishy tale?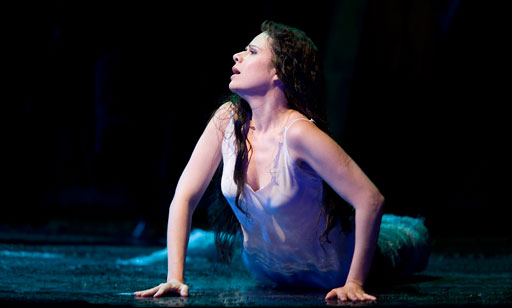 Bill Cooper
The opera at Glyndebourne on a warm summer evening is one life's big and unfailing pleasures. The air-conditioned auditorium with its good acoustic and excellent sightlines is always comfortable; and you can reduce the considerable cost of the evening by bringing your own picnic and drink. All this means that the general director, David Pritchard and his team can take a box office risk or two each season. This year's gamble is Rusalka, the tale of the water nymph who wants to be human, the first opera they've staged by Dvořák, and director Melly Still's opera début. Also making her house début is Rae Smith, who designed the great production of Warhorse now playing in London. So we knew we were in for something good.
In fact, it's as good a production as I can imagine (having seen this strange fairy-tale piece once before at the Edinburgh Festival in a slightly cheesy Russian production). As in Warhorse Ms Rae has roles for dancers/acrobat/handlers/stagehands. Dressed in very dark colours, with only their hands showing, they tumble and cartwheel around a sunken pit in the centre of the stage, acting as waves that lift and transport the singers in the underwater scenes. Rusalka's sister nymphs are flown in from the tower, scary, white 20-foot-long tails dangling and coiling. Ana María Martínez, the Puerto Rican soprano, whom we've seen at Covent Garden as Donna Elvira and Violetta, makes her house début in the title role, lustrous and convincing- despite having to shed the lengthy mermaid tail in order to develop legs. It's to her and Ms Still's credit that though this metamorphosis is obviously a metaphor for developing female genitalia, it's done with delicacy and aplomb.
So what is this weird piece about? Is it a mysogynistic work, in which Rusalka's inability to give herself to her prince not-entirely-charming (gloriously sung and nicely acted by the handsome all-American tenor from Montana, Brandon Jovanovich) is representative of how all women use their men? As in some interpretations of Cosí fan tutte? I don't think there's a hint of this. Is it about a late 19th century fear of women, then, the gynophobia symbolised by Lamia, Medusa, Gorgon and the myth of vagina dentata? That's a more reasonable view of Jaroslav Kvapil's libretto, except that the prince is far from being spooked. Instead he's so strongly sexed that when he's frustrated by Rusalka's refusals, he goes off with the wily, sexy foreign princess.
Obsession seems to me a better fit for this sometimes Wagnerian music, with its Hollywood movie moments allied to Czech folk music, dance melodies and rhythms; and a better fit for the libretto. Rusalka is obsessed with her prince, to the point that she wants to give up her immortality, is willing to undergo symbolic spaying by allowing the witch Ježibaba (Larissa Diadkova, no less) to cut out her tongue, and splay her tail to give her legs, in full knowledge that a curse accompanies these operations. The curse amounts to receiving human form, without receiving human sexuality - she gets the legs (and genitals), but not the sexual desire.
The prince, on the other hand, is powered by sheer lust - and he is sexually obsessed, first with the white doe, then with Rusalka. This, it seems to me, is a genuinely rich and interesting reading of this mysterious piece - a clash of two obsessives. Note that we first see the sexually obsessed hero as a literal stalker, on the trail of the white doe. And the poor water nymph Rusalka, whose very body, lacking genitalia, summarises her lack of interest in sex and expresses her frigidity in her very flesh. This incompatible pair are doomed to love each other, but cannot, except in death.
If only the music were as good as Tristan und Isolde. Even so, it's a lovely score, and conducted by Jiří Bělohávek, the LPO and Glyndebourne Chorus, with superb performances by the cast and dancers, this is one of those thrilling stagings of which Glyndebourne seems to have so many more more that its share.