Shakespeare Propelled?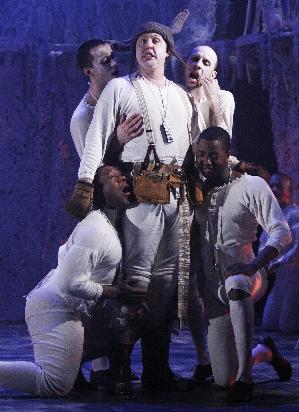 (photo Nobby Clark)
Chip off the (solid oak - he's Peter Hall's son) old block Edward Hall leads Propeller, an all-male company dedicated to performing the works of Shakespeare. I try to see all their productions; they're usually superb, and never less than exciting - every one I've seen makes you think again about a text you know well, and the revelations generally come thick and furious.
Hall and his troupe approach Shakespeare with fundamental honesty; they do not try to sugar-coat the bitter pill. So their 2006 The Taming of the Shrew was tremendously funny, but there was the strong black espresso of brutal misogyny under the froth of comedy. Now they've returned to A Midsummer Night's Dream (their first production of it was in 2003) and have paired it with The Merchant of Venice.
Designer Michael Pavelka's Dream is a bit Punk, with most of the characters wearing their combinations, though Puck (Jon Trenchard) is in a tutu held up by braces, and stripy tights. Most of the cast sport shaved heads. The only concessions to female appearance made by those playing the women's roles are gait and posture - and these are sometimes camply exaggerated. The sets look like a big cave made of ice or glass, with a row of ice/glass chairs suspended halfway up the back wall.
Bob Barrett makes a nicely disgusting, flatulent Bottom, Babou Ceesay a startled, appropriately pathetic Helena. The two plays are cross-cast, and the actors as good as you'd expect Mr Hall's team to be.
The Merchant of Venice takes the idea that Venice is a prison literally, and Shylock and Antonio the capi of different mobs inside the jail. The further it's extended the barer the conceit gets; and when we have the scenes at Belmont, we really don't know where the characters are, as the permanent set of cages within cages doesn't seem to alter much. All the personae are brutalised in this reading, even Portia, and seeing Jessica as a stool-pigeon as well as a traitor to her father does little to enhance her moral standing. It would be futile to deny the power of this staging, but I'm not in a hurry to see it again.
I suppose it's a virtue of this production that it makes you realise how thoroughgoing and virulent is the anti-Semitism of the text. Having seen this, I wonder if I'll ever be able again to respond to a reading of the play in which Shylock is portrayed as sympathetic? In some ways I feel disillusioned by Propeller's Merchant: no civilised person is eager to admit that Shakespeare was an enthusiastic anti-Semite; but that's the argument this production makes.