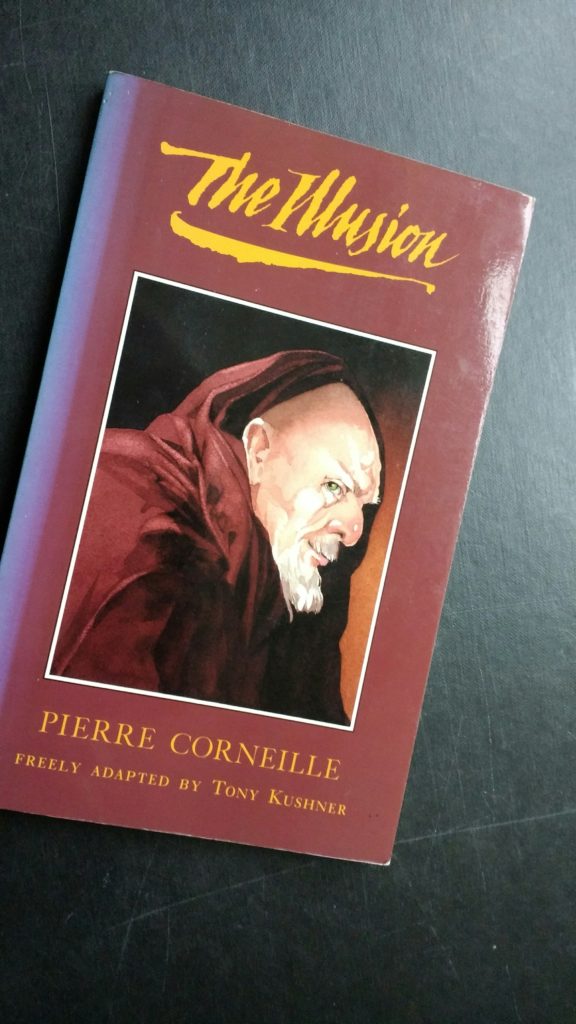 Are we all excited about Angels in America? Yes we bloody are. It's coming to the National Theatre this spring with a dream cast and some of us have been slavering for months. Booking my seats last week, stuck in an over-subscribed online ticket queue, was a rollercoaster of fanboy emotions.
So, it's time to get in our pre-season Kushner training. I saw – loved ¬– the sprawling, brawling The Intelligent Homosexual's Guide etc [iHO] in the autumn, and here's a toothsome pithivier of earlyish Kushner: his version of Corneille's mind-boggling 1636 comedy. Unlike the other plays in this series, I've seen L'Illusion comique on stage, though in a different adaptation, by Ranjit Bolt. Kushner's The Illusion takes such liberties with the original – extra characters, scenes and speeches, 'here are virtually no lines directly translated from the French' – so it seems fair to treat it as a separate work. And it's one steeped in Kushner's delight in writing (oh, the writing – plunge into the speech about a tear quoted at the end) and relish for the tricksy truths that theatre can tell.
The overall arc is Corneille's, however, and it's a smack around the chops for anyone inclined to patronise the past. Before Pirandello and postmodernism, it's a metatheatrical whirl of a piece. A father long estranged from his errant son solicits a conjurer to show him scenes from the young man's subsequent life. They are compelling visions of romance and peril – but from the beginning there's something off about them. The father recognises his son, but the name is wrong, and keeps changing. What could possibly be going on?
Kushner's adaptation premiered in 1988, three years before the first part of Angels in America. That two-play epic is as substantial a piece of writing as I've ever encountered – but also has an irresistible theatrical juiciness, an adoration of the stage convention that anything placed before an audience is real and also not. Angels and Ethel Rosenberg; imaginary heroes and real-life monsters. They share a space with us and with each other, and are as compelling as they are confected.
Alcandre, the magician and playwright manqué in The Illusion, has a sense of this incongruity. 'I do love a twist, a succulent complication,' he says. 'I feel positively elated – you can never tell, when you start these things, how they'll go.' Succulent complication is also Kushner's method – knotting contradictions into characters. A closeted gay Mormon, a sexuality-denying gay-baiter, self-tormenting people who regret the choices they avidly pursue.
A character is a confection, though we feel their substance. Theatre isn't just an empathy machine, but also a maker of realities more graspable than our own real world surrounds. Sitting in the dark, there's a distance that lets you see the contours of the world. Mired in our own confusions, it's hard to achieve the same clarity. Kushner's rigorous, elastic work stretches these paradoxes to their limits: even as the extended family in iHO writhes and bellows, often all at once, we feel them and we think them. The Illusion's icing-sugar profundities point the way into Kushner's world. See you at Angels, everyone.
Sample stage direction 'A great red curtain falls. Priadmant rushes towards it. He tears down the curtain. There's nothing behind it.'
Sample quote Alcandre, describing a tear: 'This, this jewel. This precious leaded crystal pendant. This diamond dolorosa, so hard fought for, so hard won, this food, my sustenance, for this infinitesimal seepage, for this atom of remorse, for this little globe, this microcosm in which loss, love, sorrow, consequence dwell in miniature, for this iota, this splintered particle of grief, for this I turn the gumstuck machinery, erect the rickety carpentry of my illusions. For this: to see your granite heart soften, just a bit.'
12 Plays of Xmas
I have, surprise, a lot of books. And I have, surprise, not read them all. So, 12 unfamiliar plays, 12 posts: welcome to 12 Plays of Xmas.
Follow David on Twitter @mrdavidjays