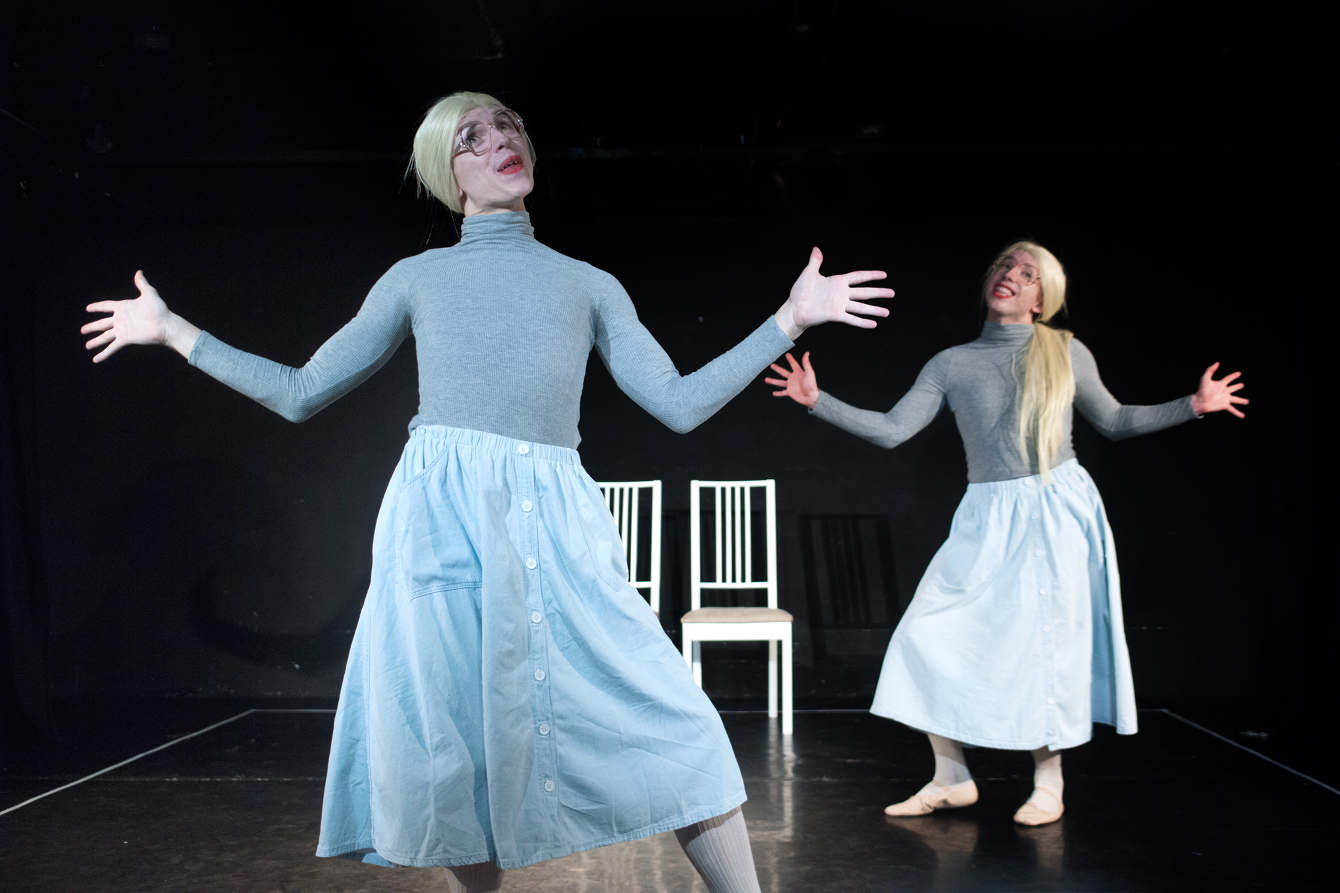 It's the pale grey sweaters that are so creepy. Thin, tight, high necked, they cling to the performers' bodies. They're nubbled by nipple and you can practically count the ribs. And, within minutes of the two performers launching into the rancid domestic intensities and dance-lunge routines of I Heart Catherine Pistachio, a dark seep of sweat becomes visible. Rockpools under the armpits, rivulets down the torso, a saline lagoon lapping over the back.
Encounter's two-person show – devised and directed by Jen Malarkey, which I saw at the Yard – is both easy and horrible to watch. Easy because it's built of keenly observed comedy, tonguelash domestics, daft dance and nostalgic tunes. Horrible because these combine in a tale of vicious family dysfunction and sexual abuse.
Carl Harrison (taller, scathing, unabashed) trained in dance. Nick Blakeley (shorter, earnest, boxy) trained as an actor. Both fantastic. But for their specs, they're identically dressed: baby blue nylon skirts, long yellow wigs roughly pulled into a ponytail. They play both Catherine – unloved, inappropriately loved – and her parents Linda and Lionel, needy swingers hoping their home may become the Playboy Mansion of their northern gated community. Emotionally, physically, sexually abused, we follow Catherine from birth to adulthood in just an hour.
The casting is genius, fold upon fold. Two Catherines, urging-restraining each other, clinging tight for comfort. When they play their parents, sniping at chairs at the back of the stage (Blakely-as-Lionel manspreading without conviction, Harrison-as-Linda twisted tight as a mamba), you're left with a troubling disconnect. Has this pair of ordinary monsters created Catherine? Is she retrospectively performing her parents? Family dysfunction and dependency fold upon each other. The critic Maddy Costa likens the effect to Todd Solondz' films, which is a sharp call. Linda and Lionel speak fluent Abigail's Party, every brand-name line a giveaway of social climb and class shame. Ingratiating themselves into the community, whatever it takes – badger kink masks, using Catherine's pony as a live piñata – they'd be pitiable if it wasn't for the callous indifference with which they treat their daughter.
Frantic desire and rank discomfort
'You'll like Catherine Pistachio,' someone told me last year. 'It's got dancing in it.' To be honest, that wasn't the draw – little is improved by the addition of contemporary dance, not even contemporary dance. But there's a compulsion to the Catherines' clunkingly committed routines – especially by thrashing, bendy Harrison, always with an expression of furious intent. Under movement director Simone Coxall, Catherine's break for freedom in movement seems hobbled from the start – ramrod limbs, semi-coordinated voguing. As with the sweat, it signals bodies expressing themselves with frantic desire and rank discomfort.
The history of dance costume is a battle against visible perspiration. Breathable fabrics, detachable pit pads, the modern miracle of lycra. So why would they choose such vile costumes that advertise the performers' clammy efforts?
They choose it because they want us to see that nasty sweat, of course. They want to make us wince a little, recoil a little. They do it because IHCP is a piece about bodies, the things they do and are made to do, the unease that accompanies them. The disgust, shame and coercion, made visible. There's no wet wipe that can swab away that stain.
Follow David on Twitter: @mrdavidjays