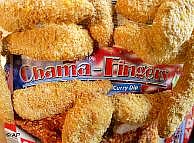 I thought this was old news. The link to the report from Deutsche Welle I'm adding here is dated March 10. But the story hasn't been widely seen.
In short, a frozen product called "Obama Fingers" has appeared in German freezer cases: just pieces of fried chicken (with curry sauce, yikes). When asked if anyone was aware that a racial, uh, problem arises when you link an African American "brand," even a presidential one, to a fried-chicken product, the Fingers spokeswoman basically shrugged her shoulders and said, "Warum?"
We Germans don't pay attention to such things.
Now, it could be that such non-culinary distractions are easy to overlook — if you believe that food doesn't have meaning. But it does.There's no such thing as value-neutral food. Food and race, for example, go together like … rice and beans, gefilte fish and horseradish?
"They could have made a full Obama Finger dinner if they added Wassermelone, lol."
It's not exactly a secret that blacks have borne the brunt of Aunt Jemima Uncle Ben advertising as well as wildly racist food "humor" for decades and decades — you may know what "alligator bait" is. And that hasn't been limited to the U.S.: guess what some folks call Cadbury bars (phrase starts with an N).
Nasty fingers will poke everywhere, so it's smart to poke back.
For an automatic alert when there is a new Out There post, email jiweinste@aol.com.