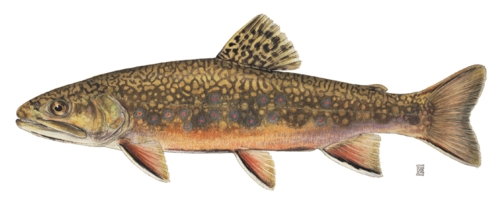 My wonderful neighbor Anthony, whose fisherman expertise is matched by his passionate, sensible defense of the aquatic ecosystem, came to my door at 5 p.m. carrying a paper plate. Upon it sat a beautiful spotted gray and rose fish, beheaded, slit, gutted, and garnished with large commas of roe the color of ripe pumpkin. "This was swimming a half-hour ago," he said, smiling shyly. "Are you sure?" I asked, referring to the gift, not his veracity.

What a sweet guy.

This writer is genetically obtuse at identifying a fish by its cover — its taste I can occasionally figure out. But when I saw this one, I knew without thinking just what it was: a trout. There are many trouts, but mine looked like a young "brookie" or Savelinus fontinalus. It could also have been a small, sea-run rainbow, Oncorhynchus mykiss (the romantic in me wants the second name to be "my kiss" and not anything scientific). I wasn't sure, having listened to more Trouts than I have eaten.

I'm a New Yorker who lives in the East Village, but the East River hasn't seen trout for eons. Disappointing artist-waterfalls, come and get 'em. But no more mile-long oyster beds, cat-size lobsters, throbbing clams. Striped bass, yes. A 40-pounder was caught in the dark urban water not so long ago.

I was weekending in Bellport, Suffolk Country, when my neighbor knocked, and he said he caught a half-dozen at nearby Connetquot River, which is a fly-fisher's dream. (Language note: The preferred trout lure is called a "woolly bugger.") I lifted the trout to my face, and there was absolutely no odor — of decaying boots, overnight storage, glowing seepage from Long Island's Brookhaven Lab. I knew I had been given something special and took sweet butter from the fridge to prepare my meal.

Grill? Pan-fry? I couldn't remember the last time I had cooked a trout. My fish, I realized, has been absent from dinner-party tables and most restaurant menus for a while. Smoked trout, a wisp of arugula, fine. Trout almondine, truite au bleu? Get your great uncle to reminisce about wooing your great aunt at a late trout supper after the curtain went down on East Lynne, holding her soft hand under the table as the deft waiter lifts away a comb of bones. Then, trout signified not only the plaid-male outdoors but tablecloth civilization in effete French form — along with escargot, celery remoulade, and sinful mousse au chocolat. Few foods, in fact, have been as culturally bisexual as trout. So why has it vanished from its once unimpeachable place?

What a coincidence that I had seen trout play its accustomed role just last night, in Robert Altman's 1993 Short Cuts. The satisfying film was done in the director's signature format of overlapping stories (these by Raymond Carver) with common themes — in this case, frustrated ambition coupling with disabled affection. One segment has an unemployed L.A. husband escape his wife via a fishing trip with his buddies, but they're interrupted by the discovery of a corpse: A young woman, in bra and panties, floats in the crystalline cove.

They leave her there for days so their sport won't be ruined.

One after the other yanks up a thrashing trout (couldn't tell which kind), fish whose flesh is suffused with the water in which the neglected Ophelia decomposes. Trout fishing in Altman's America.

Trout has been farmed since the first of this nation's forebears could dig a pond. Wild trout are masculine, hatchery trout feminine in the cultural imagination. The difference in taste is similar to that between wild and farmed salmon, the latter flabby in comparison. "Trout" is a great rhymer: spout, kraut, doubt, flout. At a flea market long ago I found a black-rayon pajama top upon which fat trout in surreal color leapt from the bubbles of a fabric stream; I searched for years for the matching bottoms.



Those who routinely read about better food than they usually eat will recall M.F.K. Fisher's tale of enthrallment by the "wild-lipped" fanatical waitress at an old-mill restaurant in northern Burgundy. Fisher became seduced by a quiet, almost mad procession of irresistible food — at the center of which was a trout, initially brought to the table swimming in a bucket. It was to be cooked au bleu, but of course, so it must be alive when it meets its fatal court bouillon. Fisher looked at the crescent in the water and asked her obsessed server if the guts are removed before or after.
"Oh, the trout!" She sounded scornful. "Any trout is glad, truly glad, to be prepared by Monsieur Paul. His little gills are pinched, with one flash of the knife he is empty, and then he curls in agony in the bouillon and all is over. And it is the curl you must judge, Madame. A false truite au bleu cannot curl."
That particular sapphired victim was immortalized first by the chef, and doubly by the author, who wrote her account in 1937. In it lies some of the answer to our question, because at the time Fisher was sampling the culinary personality of France, history was already working to make her acute traditional pleasures valedictory. War soon stripped even the flour from the bread, and later a welcome agricultural industrialization and resulting degradation began to replace a previous handful of unforgettable local joys with a supermarket of international, interchangeable ones. Media too played a part: Blackened redfish, for example, swam onto newspaper pages and tabletops far from its Louisiana home, spawned repugnant mutants, and retreated. Still, the pleasure we get in pleasure will always create unforeseen vehicles for it, old and new, written and not.
My hot trout sits on a plate, waiting.
For an automatic alert when there is a new Out There post, email jiweinste@aol.com.