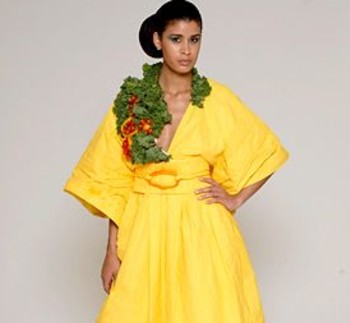 Oat Couture
Every writer has readers who reside only in his or her brain, and right now my tenants are clamoring for an opinion about the fifth season's first episode of Project Runway. What's the cerebral word-of-mouth? They're all a bit worried. Any go-round of a formula show risks repetition, yet until last Wednesday, Runway avoided the inevitable. That time, though, the contestant virgins seemed to be familiar versions or types, and in an unnecessary obeisance to the first year's premiere, the new cast was sent again to a Manhattan supermarket (which would be a 7-Eleven anywhere else) to choose ingredients for its debut effort in oat couture.
As models marched down that well-worn, tear-stained runway, the sage judges, looking more and more like Gilbert & Sullivan supernumeraries, seemed upset that so many of the newbies purchased shower curtains instead of the obviously poetic options from the produce bins.
Vegetable Love
Let me digress. Just below is a photo that accompanied "Art: It's Food for Thought," an article by Jacqueline Combs published on Sunday, July 2, 1972 in the Daily Pilot, "Serving Newport Beach and Costa Mesa, California." Yours truly is the skinny standing figure on the right, my Prell-worthy tresses tangled in a jabot of woven scallions.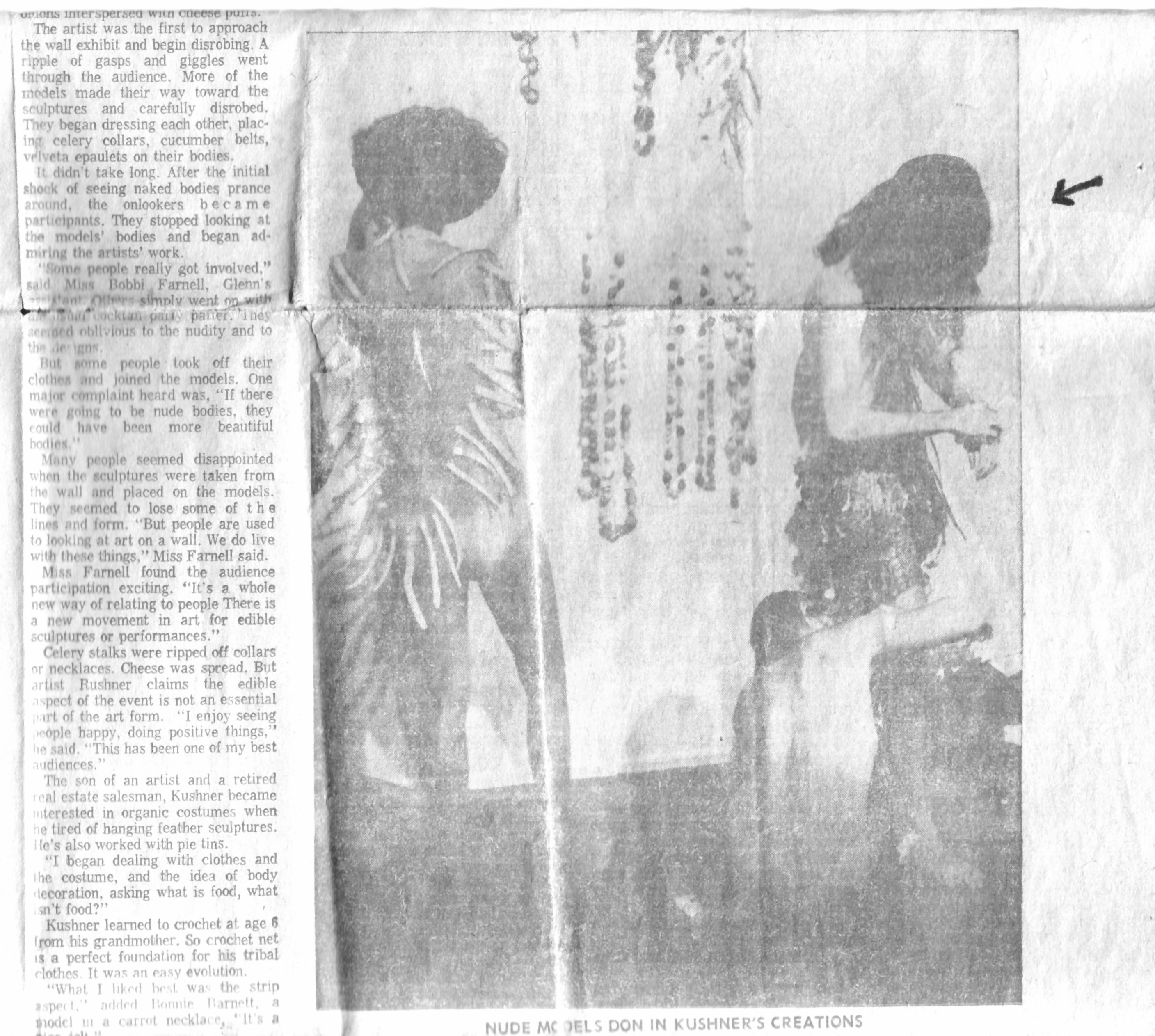 University of California, San Diego undergrad artist Robert Kushner inveigled a dozen of his exhibitionist friends to travel first to his family home in Arcadia, Calif., and create costumes by selecting samples from piles of vegetables and attaching them to crocheted (his granny taught him how) network garments. Always a culinary minimalist, I limited myself to the ivory and emerald of young onion and the garnet crenulations of stiff red cabbage.
Then we traveled to the Jack Glenn Gallery in Corona del Mar, as blue-chip a venue as Orange County could manage, and watched appropriator Kushner arrange our creations on the wall. To everyone's surprise, the stuff looked pretty good dangling from hooks: Anything you hang in a gallery becomes art, said the ever correct M. Duchamp. As the space became jammed with late-afternoon art lovers — you'll see why in a sec — we waited for a signal, then shed our surfer drag, walked naked among dropped jaws to locate our particular vegetable creation, and slid it on.
Bob took the mike and narrated a fashion show in as campy a manner as the crowd would stand — I think he ended with himself as wedding dress. But when aerosol cans of Velveeta were passed around, a surprisingly messy and salacious ruckus ensued, and the salad day was over.
So, either Project Runway leafy greens on the neck of contestant Korto's corn-yellow gown (top photo above) are mere garnish, or Kushner and I should team up for the program's next season. You may see the mature artist's persistent love for growing things realized by his lyrical 4 Seasons Seasoned (below), a 2004 mosaic mural in the 77th Street station of the Lexington Avenue subway.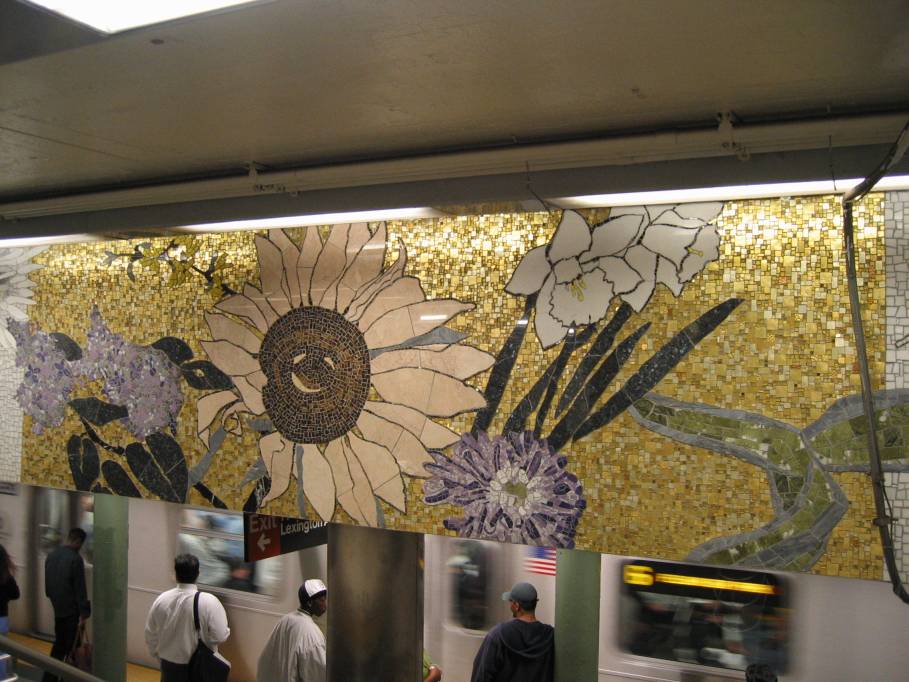 By the way, that reality show planned by Sarah Jessica Parker, the one I cited a while back that would be an art version of Project Runway, is reportedly ready to fly: American Artist has been picked up by Bravo. The question of the hour is the same as ever. Are work and achievement to be judged through creativity or commerce? I suspect that reality, televised and otherwise, has already nailed the answer.
Bash Notes
On Thursday night, July 17, last season's Runway finalist Rami Kashou was, according to every Hollywood gossip site on the Web, set upon outside a WeHo club for no apparent reason and struck in the face with either a beer bottle or martini glass. (A big difference, some would say.) He is "shaken," but happily doing OK. Comment threads have been unusually sweet and supportive, but don't for a moment imagine that at least a few tasteless Runway jokes haven't surfaced: Did the medic drape the bandages? When attacked, did Rami cry "Drape!"
Then we read that the day before (the Wednesday, coincidentally, that Project Runway began again), the boyfriend of Rami's rival and winner Christian Siriano, a Brooklynite named Brad Walsh, was gay-bashed in New York's Soho by a guy driving a truck with a Yuengling beer logo ("America's Oldest Brewery") on it. Walsh writes on his own blog that he's still hurting and trying to find the assailant (Rami's was caught). Maybe Kushner and I should rethink our video ambition.
Numbers
If Mr. Walsh had been heading for a Subway or Blimpie and not been delayed, he would have noticed that the calorie count of his $5 length of food was — or should have been — displayed at point of sale. Most, but not all, of Soho's eateries are immune from the new New York City law that requires chains with 15 or more national links to post the damage in a clear and prohibitive manner. This is a first, and I applaud any manifestion of what was once called "truth in menu." Now, when you sin in the Big Apple, you have another way of quantifying the evil.
I am, however, waiting for the city's chastened restaurants to come up with an effective response, perhaps a "calories-per-dollar" contest in which the highest number wins. Makes sense, doesn't it? "Value" means getting more for your money, a truism more true now than ever and one with which no consumer — or Project Runway producer or judge — would dare to disagree. Make those numbers work for you, the moral of the ongoing story goes, and you'll all be winners.
For an automatic alert when there is a new Out There post, email jiweinste@aol.com.