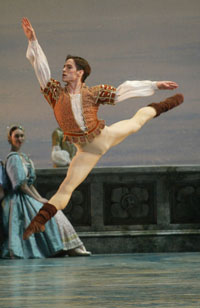 Sascha Radetsky of ABT. He'll meet you outside.
Tight Deadline
There's a peculiar first-person piece in the latest issue of Newsweek, odd as much from an editing point of view as from a writer's or reader's. "Don't Judge Me by My Tights," offered as a "My Turn" column, is a credo by American Ballet Theater soloist Sascha Radetsky that can be summed up in one short swipe: Don't think I'm a sissy because I dance ballet.
Those limp, nancy cliches, he writes, have nothing to do with what he really does:
On an average day at the job, I handle lithe, lovely women, engage in duels and delight in the experience of an exotic locale. I move like a gymnast or martial artist and embody the vilest of pimps or the most chivalrous and passionate of lovers.
Yes, that's the beat beat beat of the jackhammers you hear in the pit.
And if I were you, great unthinking public, I'd be careful to keep any doubts to myself:
But for you out there who still feel compelled to malign male dancers with half-truths and petty stereotypes, well, maybe we need to step outside. I'll leave my tights on.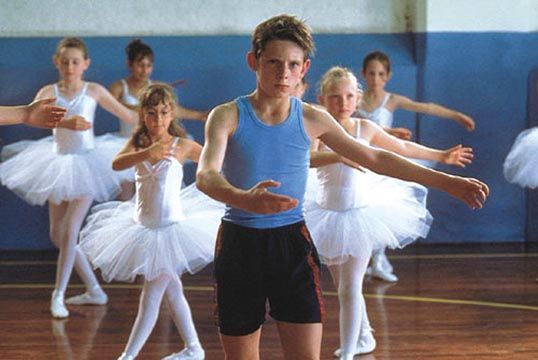 Jamie Bell as Billy Elliot
The Third Gay
At first I looked to see if a mistake had been made and the piece really came from a Newsweek "Last 25 Years" special issue. Billy Elliot, after all, was released in 2000 and won its three Oscar noms the next year. You don't remember this U.K. gem, one of the most appealing queer-stereotype smashers — and dance-invigorating narratives — ever on screen, in which a miserable working-class straight boy discovers his happiness and core self in an inescapable zeal for ballet? Well, neither does the Newsweek staff.
Editors, maybe there are ways to butch up this sort of tired stuff. Sure, defend the boys who want to dance. Yet make a wee effort and find a nongay toe-shoe guy who doesn't whine about moronic bigotry, but slaps it down with a pliant wrist instead; discover the guy who likes, even loves, to be taken for a sissy. How about a couple of lesbian and gay dancers to back him up? There's gotta be a George Clooney in ballet somewhere. ("No, I'm gay, gay. The third gay — that was pushing it.")
If he really knows his subject, this winning fellow could also demonstrate how a great part of the magnetism of his vocation comes from activating the cross-gender power and sensuousness of bodies in motion, male and female.
By the way, Mr. Radetsky, no matter what role you take or costume you don, you can't strip from dance the surprise of erotic desire.
* * *
Unforgettable TV phrase of the week:
"Yes, that was from my Joan of Arc cocktail line."
An Out There award not even worth the paper it isn't written on goes to the reader who can name the speaker and program.
* * *
For an automatic alert when there is a new Out There post, email jiweinste@aol.com.