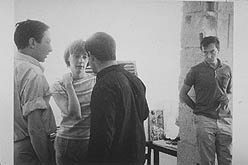 "Up-and-coming studs" Bob, left, and Jasper, far right, just before their breakup in 1961 (from "The Art of Code")
A piece of canvas covers its surface like a blanket except for portions at the bottom, where Tennyson's name appears in murky stenciled letters, and the top is vertically bisected, suggesting two pillows. Mr. Rondeau sees the work as a response to "Bed," which Mr. Johns's close friend at the time, Robert Rauschenberg, painted three years earlier on the quilt and sheets of his actual single bed.
— Roberta Smith, in a New York Times review of the "Jasper Johns: Gray" show, just opened at the Metropolitan Museum of Art, Feb. 8, 2008
Like Rauschenberg, whom the artist befriended in 1954, Mr. Johns, working somewhere between painting and object, incises his pictures; and he collages things, images, and everyday objects — including newspapers, rulers, brooms, metal cans, and rope, as well as cast body parts — to his canvases.
— Lance Esplund, in a New York Sun review of the same show, Feb. 7, 2008
Just when enough seems enough, we land in 1961, the year of his discontent. Wall text explains this was "the year that Johns's influential relationship with the artist Robert Rauschenberg dissolved." We hardly need the information to know that Johns was upset (he himself has said "the mood changes").
— Terry R. Myers, in a Time Out: Chicago review of the "Gray" show at its originating venue, the Art Institute, Nov. 15, 2007
Don't skip the wall labels at the Met's "Jasper Johns: Gray" blockbuster. We don't mean the text asserting that the show is moody, intellectual, and groundbreaking — which it, surprisingly, is. We mean the tiny letters that tell you who owns what's on the walls.
While such info is usually hush-hush — "Private collection" is the norm — for this show, collectors seem to be eager to come out of the closet as Johns fans. Robert Rauschenberg owns the artist's 1960 silvery Flag.
— Alexandra Peers, in New York Magazine's "Vulture," Feb. 6, 2008
Although the artists remain circumspect on this point, there is reliable evidence that for over six years Jasper Johns and Robert Rauschenberg were lovers. For both artists, it was probably the most serious and intense relationship of their lives, a relationship which was to have a profound effect on the work of each of them at a critical moment in their development. When they finally split up in 1961, the after-effects were so powerful that both artists left New York for their native South, changed their pictorial styles radically, and neither saw nor spoke to one another for a decade or more.
— Jonathan D. Katz, from "The Art of Code," an essay in Significant Others: Creativity and Intimate Partnership, 1993
Robert Rauschenberg: I'm not frightened of the affection that Jasper and I had, both personally and as working artists. I don't see any sin or conflict in those days when each of us was the most important person in the other's life.
Interviewer: Can you tell me why you parted ways?
RR: Embarrassment about being well known.
Interviewer: Embarrassment about being famous?
RR: Socially. What had been tender and sensitive became gossip. It was sort of new to the art world that the two most well-known, up-and-coming studs were affectionately involved.
— from "The Art of Code"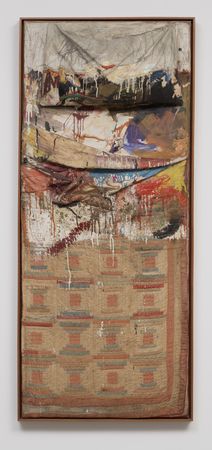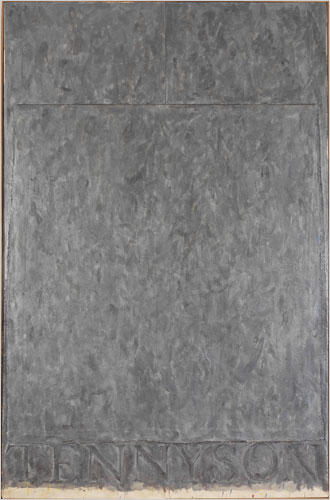 Robert Rauschenberg, Bed, 1955. Jasper Johns, Tennyson, 1958.
* * *
For an automatic alert when there is a new Out There post, email jiweinste@aol.com.