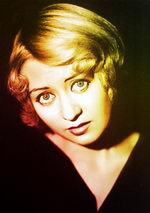 Remember my forgotten man
You put a rifle in his hand
You sent him far away
You shouted, "Hip, hooray!"
But look at him today.

Nothing, I repeat, nothing in the cowardly realm of popular culture makes me weep the way the sinfully uncelebrated Joan Blondell does when she sings these lyrics in the final set-piece of Busby Berkeley's Gold Diggers of 1933.
I happened to catch the genius Berkeley's Footlight Parade on Turner Classic Movies, and its irrepressible Depression bounce (how the boys and girls of the chorus drop everything and dash when crates of food arrive) led me to the library and its trove of Busby DVDs. I put on the first of his Gold Diggers … and was a goner.
That old movie, the kind anyone then would buy a ticket to see, actually found the face of government heartlessness toward the country's broke and rejected World War vets, and spat on it. And not with Jon Stewart manipulation or HBO cynicism. With a voice, an expressive, passionate musical voice.
Audiences loved the art and the nerve of it — and still would.
Al Dubin wrote the bread-line words and Harry Warren the minor-key music of "Remember My Forgotten Man." Tell me, do Out There readers know how riveting entertainment can be when it is knit into some kind of unforeseen, imaginative truth? All my life I have loved movies and TV because they told me how to grab the most important ideas and feelings from the gutter. "Million Dollar Movie," the TCM of its time, was my premier childhood classroom. But now, popular films in particular are flying fast from any connection to honesty or risk.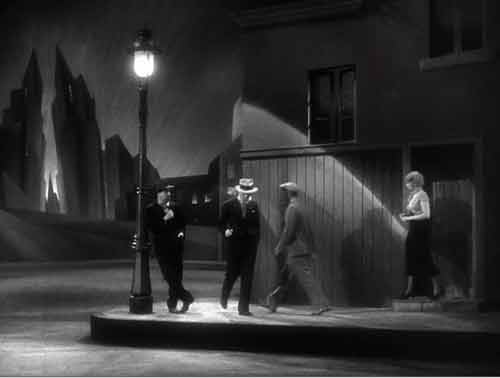 Scene from the "My Forgotten Man" number in Gold Diggers of 1933. Joan, at right, plays a "working girl."
I grew up not with parents, but in front of a screen. I haven't bought a ticket to see a movie in almost a year. Vivacious Joan, who could act Saturn rings around the likes of phony Crawford and unintentionally best her predictable partner Cagney, had that "thing" that enabled her to stride the gulf between role and real. Those vintage images and crackling sounds she made have more blood and guts in them than any nightly Fox newscast. Where is the voice that will nail war now?
If you need any argument for the import of the cultural arts, she is it.
* * *
Click here for the "My Forgotten Man" number. The astounding second singer of the song is an uncredited Etta Moten, who's also the "Brazilian" who warbles "The Carioca" in Flying Down to Rio as a newly coupled Fred and Ginger burn up the floor.
Later a radio journalist, Moten was the first African American to sing at the White House when, in 1934, Eleanor Roosevelt invited her to reprise "My Forgotten Man" for FDR's birthday. Moten played Bess in the 1942 revival of Porgy and Bess at the request of George Gershwin, who reportedly wrote the role with her in mind.
She refused to sing the word nigger, which brother Ira later removed from the libretto.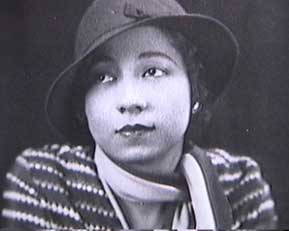 * * *
For an automatic alert when there is a new Out There post, email jiweinste@aol.com.