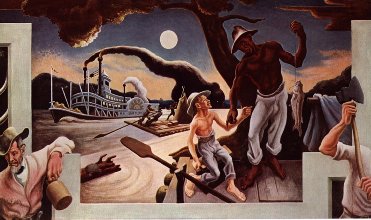 Huck and Jim by Thomas Hart Benton. That's "Huckleberry," not "Huckabee."
Explainer
I realized, after asking some cordial readers whether they got my "Huck Honey" reference in the last post (see directly below), that I am older than sin and, on top of that, think that a literary critic whose best work was written almost 60 years ago could be considered K-Fed famous.
His name is Leslie Fiedler — born in Newark, New Jersey just after World War I, died in 2003, and was best known for a university-bookstore staple called Love and Death in the American Novel. But his 1948 Partisan Review essay, "Come Back to the Raft Ag'in, Huck Honey," is probably the first bit of lit crit that acknowledged homosex as a theme and not just an aberration. Everyone yakked about it, at least in the (square) circles I ran in.
Oh, that's Jim talking, in the title. Jim is a runaway slave. Black, older Jim has a crush on white-boy Huck, and vice versa, which is the real reason they're always trying to knock the Finn story off library shelves.
For an automatic alert when there is a new Out There post, email jiweinste@aol.com.