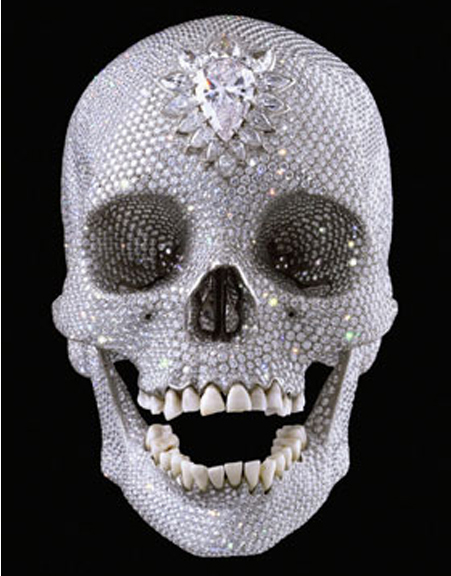 How to get a head in the art world (For the Love of God by Damien Hirst)
Current Events
Gosh, even with TV's long-compromised creativity halted by a strike, there's so much to write about right now. Like that Huckabee person's unretracted wish not only to concentrate HIV/AIDS types in some sort of germ camp, but his unembarrassed belief that we bent citizens — Jodie Foster newly included — are bad, bad, bad in a way that no proper under-God government could ever efficiently correct.
Fall off the raft, Huck honey.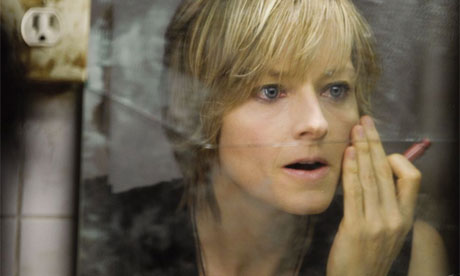 "Aberrant, unnatural, and sinful" (Jodie Foster)
And the estimable commentator Frank Rich thinks this guy is for real? Oh, pardon me, we're on an arts site. (Well, the Times' Rich was once a Very Important theater critic.) In case you are tempted to think any argument defending gay/lesbian life — yes, live-or-die life — is simultaneously a defense of the arts, I can recount to you the many guys I dated, perfectly nice guys, most of them, who thought Art was someone's first name.
Just recall what happened to William F. Buckley, Jr., who ages ago recommended that HIV-infected persons be tattooed. Recently, he himself coyly recalled that outraged folks thought he "had been schooled in Buchenwald."
Oh, nothing happened to him, of any importance.
What Out There really wishes to bring to your attention is the current political and cultural importance of finger-food.
Send Your Kids to Art School
But first, we note with some melancholy that the year in lower-case art was marked by the fact that every single show Out There saw, or that could have been seen, was shadowed by a giant dollar sign. Not metaphorically, but actually shadowed, darkening the work on gallery walls and floors. (Samuel Clemens knew a century ago that money trumps genius, as the first-act sluggish, second-act giddy drag farce Is He Dead? now on Broadway makes all too clear.)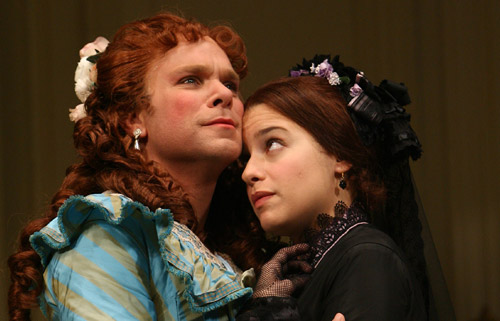 "And Gov. Huckabee, how do you feel about transgender rights? Do you support the arts?" (Norbert Leo Butz, left, as painter Jean-Francois Millet and Jenn Gambatese in Is He Dead?)
The art world's 2007 memento mori was a skull cast in platinum, encrusted with 8601 pave-set diamonds, and reportedly sold for 100 million smackeroos to a gaggle of … investors. Imagine, Mr. Rich, the Hamlet who'd palm that.
Whores D'oeuvres
Anyway, ABC-TV evening news, usually an exemplar of attention-deficit brevity, had a longish and even witty segment about how the recent "clean up Congress" anti-lobbying legislation has affected Christmas parties. The best shot was a giant D.C. ballroom jammed with suits standing cheek by jowl, helping themselves to high-rent booze and what used to be called hors d'oeuvres.
Explanation? Members of Congress may no longer accept lobbyist invitations to sit-down meals in which chairs, knives, forks and spoons are used.
Are chopsticks mentioned? What about Ethiopian bread, injera, which looks like a napkin, but is ripped into pieces and used — with the right hand only — to scoop up dinner?
So caterers are brushing up their sushi. Actually, anything can be eaten — and pocketed — standing up: foie gras sits quite comfortably in pastry cups, caviar feels all the more endangered in mini-blinis, and even a Wagyu porterhouse may be bite-sized and prechewed. The problem at political shindigs has always been balancing food, drink, and ethics, which will slosh and stain even the most Scotchgarded reputation.
Washington, as almost everyone knows, is lucky to have the best cleaners in the world.
For an automatic alert when there is a new Out There post, email jiweinste@aol.com.