Results tagged "Barack Obama jazz" from Jazz Beyond Jazz
The
National Endowment of the Arts
panel determining recipients of the annual Jazz Masters Fellowships is a small one. In the interest of transparency, the NEA has supplied the names of panelists who chose the class of '09. It comprises five previously named Fellows, one "layperson," one independent record producer, and two longtime jazz adminstrator-activists (who both happen to be honorees of the Jazz Journalists Association's "A Team").
Of course, if John McCain becomes president, it's all moot (as Lee Rosenbaum
reports
, the GOP has no arts policy in its platform, and I remember writing to McCain during the 1980s objecting to his desire to de-fund the NEA). He's clearly no jazz candidate -- whereas
Barack Obama
spoke at the site of the Detroit Jazz Festival, on Labor Day, and San Francisco musicians are lining up behind him with a
fundraising jam
in San Francisco, October 13.
But that's another posting: back to the NEA panelists -- 
About
Jazz Beyond Jazz
What if there's more to jazz than you suppose? What if jazz demolishes suppositions and breaks all bounds? What if jazz - and the jazz beyond, behind, under and around jazz - could enrich your life?
more
(FTC) Disclosure
more
#jazzlives
tweet who/where when YOU hear **LIVE** jazz
more
Jazz Beyond Jazz

I'll be speaking:



I'm on Facebook



Follow Jazz Beyond Jazz on Twitter
more
Subscribe in a reader
more
Howard Mandel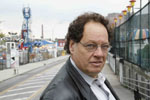 I'm a Chicago-born and New York-based writer, editor, author, arts producer for National Public Radio -- for more than 30 years, a freelance arts journalist working on newspapers, magazines and websites, appearing on tv and radio, teaching at New York University and elsewhere. I'm president of the
Jazz Journalists Association
.
more
Contact me
Click here to send me an email...
more
Blogroll