Results tagged "public art" from Aesthetic Grounds
How to think about public art? Do you just keep doing the same thing? Big art? Architectural intimacy? Site-specific narrative? Locally responsive?
Internationally, public art has been institutionalized as the founder's dreamed in the 1960 and 1970s. Big - intimate - narrative - responsive. Most importantly, appreciated by a small, but growing group, and accepted by most. Richard Serra's "Tilted Arc" would NEVER be removed today.
What was not anticipated was 1.) public art as a defined field separate from museum art and 2.) global uniformity. They could not have imagined 1.) daily Internet access to any public artwork and 2.) participation in public art through cell phones and Internet.
What has not materialized in the USA is 1.) respect for the individual artistic career and 2.) pride (or tolerance) in a culture that sponsors artworks of political and social content. Respect continues to expand for artists in the corporate or spectacular arts - movies, music videos, concerts, advertising, fireworks, theme parks, architecture (and some urban space or landscapes). For time being, the Internet provides the public venue for creative public works in politics and social observation.
Perhaps, the Internet removes the psychological need for public political expression in physical public art (except when used as a method to gain access to broader media channels and new audiences). At a recent dialogue at the New Museum in NYC with street artists selected by the Wooster Collective, politics had almost no role in the content of the art. These street artists personalized the generic elements of urban places such as billboards, light poles and road markings. Individualizing and manipulating the institutional forms has a political dimension as an act where acts by individuals are prohibited, but abandons public space as a canvas for unique commentary on culture.
As I try to come back to discourse - a mental activity removed from professional public art administration - I have been reading about "Relational Aesthetics". Although this theory that has inspired many public works of interaction among particular publics, Relational Aesthetics confirms the tiny, insignificant role of visual art by removing any cultural objectives beyond a knitting function for different groups and ideas. Any goals of global transformation are abandoned as 20th century failures. The dreams expressed as utopia have no value. Just make the best of the circumstances.
In general, theory is mainly the emphasis of one part of the same reality. "Making the best of circumstances" was an important element of any revolutionary act. In the 20th century, the objectives reigned supreme. Now the circumstances have the public relations edge, but art is still a singular act to make something that will change or reinforce human knowledge, values and future acts.
Revolution is a communal act in which art was a symbol and an example - not the motivation. A minority of artists - open to change and desiring notoriety - were frequently with the vanguard. In this world without hope in communal acts, Relational Aesthetics and contemporary public art practice makes sense as the symbol and an example. Make the best of circumstances with a clever mind, sensitive heart and functional results. Leave the best of all possible worlds to another generation.
Well that did not answer anything about public art. Except to say that the best public art in our time would be big, intimate, narrative and responsive with a functional justification and produced by an artist(s) with a clever mind and sensitive heart.
A lot of examination of public art this week (Sept 7-Sept 14, 2008). Get online or a subway car.
In two weeks, Creative Time's Democracy Project opens in NYC and by its existence, tests the old definitions of artist actions in today's world.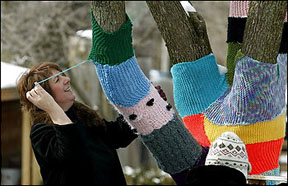 At the end of last week, two public art projects competed for media attention in the USA. In the small town of Yellow Springs, Ohio, a few local women knitted a sweater for ONE tree during a winter day. Any volunteer knitter could climb the eight-foot ladder and add her wrap to the tree trunk or limb. In Las Vegas, two of world's largest resort and gaming corporations announced a $40 million dollar expenditure for fine art at the future CityCenter $8 billion casino and resort. New huge artworks have been commissioned from Jenny Holzer, Nancy Rubins, Maya Lin and Richard Long plus the display of large existing works by Oldenburg/ van Bruggen, Frank Stella and Henry Moore.
Here is the result of "Head to Head" public art media blitz.
Yellow Springs Knitters
·

Strategy: Someone must have known a local AP stringer. Stringer pitches story to AP. Report with picture hits the AP wire.

·

Results: Multiple publications in daily newspapers across the United States including Washington Post, NY Times, Boston Globe, International Herald Tribune, etc, etc, etc.

·

Economic Development: Yellow Springs spreads its reputation as an "artsy" community.
MGM Mirage and Dubai World
·

Strategy: Write the article in the form of a press release and distribute via prnewswire.com. Call up editors and reports at various papers. Push hard.

·

Results: One print article outside Nevada in the NY Times with online slide show that was picked up and republished in Taipei. Partial or full posting of prnewswire text on online business or gaming websites.

·

Economic Development: Las Vegas has upscale resorts equivilent to Dubai.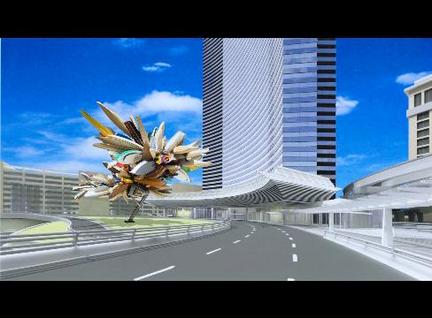 Nancy Rubin Proposal for CityCenter
I am interested in why the Yellow Springs knitters out paced MGM Mirage. The greater success Yellow Springs comes from the actual installation of the artwork, not just a story about the future. Real people and their honest reactions could be interviewed on the streets near the tree. The NY Times had to stretch to find a few quotes and a very staged picture of Ms. Lin with a tiny segment of her silver river.
Yellow Springs had other advantages that public art programs might note. The artwork was colorful and clearly understood by a single photograph - strips of knit fabric tightly wrapping the trunk and limbs by local women as a celebration of winter and their own joyful spirit. The visual effect was dynamic on the tree.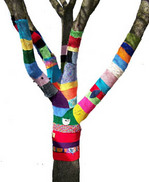 As reported by AP, Corrine Bayraktaroglu, an artist who helped start the "knitknot tree" project, stated: "People are really, really enjoying it. They're coming from towns to have their photograph taken with the tree."
How many civic art programs strive for this reported comment on an abstract, design-integrated public artwork: "It looks like Yellow Springs; it's unique, it's colorful, unpredictable," said Lynda Sirk. "It makes me smile. That's what I like." Unique, colorful, unpredictable - all words welcome in any critical commentary on Nancy Rubins, Frank Stella and Oldenburg/van Bruggen in Las Vegas.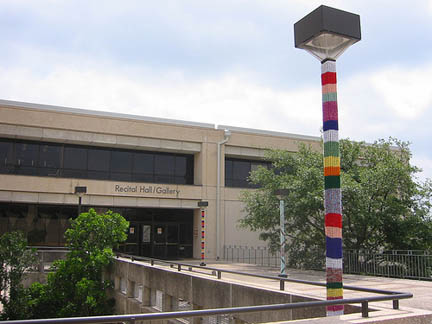 Houston's Knitta wrapping light poles in San Antonio
I was surprised to learn that knitted artworks for the street are a practiced artform. A group of six artists from Houston called Knitta have been collectively wrapping elements of the street for the last three years. A knittaplease photo collection is available on Flickr.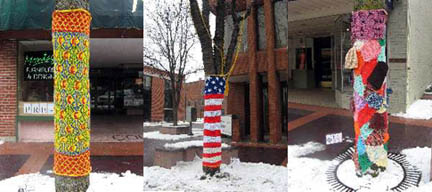 Tree Cozies in Indiana (photos "The Republic")
Also this winter is the tree cozy competition in Columbus, Indiana. 30 artists wrapped the lower trunk of 30 street trees with knitted works. Alice Dorwsky (spelling help?) of New England has been making beautiful yellow wraps and tree hangings for the last few years.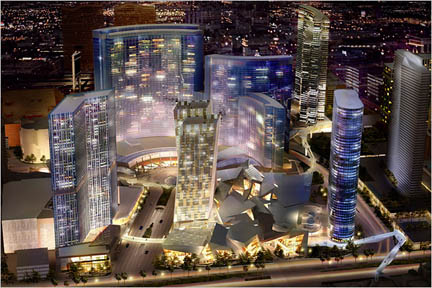 CityCenter Design (NY Times Slide Show)
Back to CityCenter in Las Vegas. What to make of the end of bad taste in Sin City? When Steve Wynn added art to his other casinos in the 1990s, the art was tasteful, but not the setting. With CityCenter line up of architects - Foster, Pelli, Vinoly and Libeskind - now the French and other European critics will stop commenting and Japanese youth will stop visiting. Viva Las Vegas might be approaching retirement. Even Las Vegas can become just another flashy resort. What could be worse?
For the record, $40 million is only one-half of a percent (1/2%) of the $8 billion project. So although it sounds and IS a lot of money for art, a typical 1% for art program would receive $80 million.
But still the world was more interested in the $50 dollars of yarn in Yellow Springs this weekend.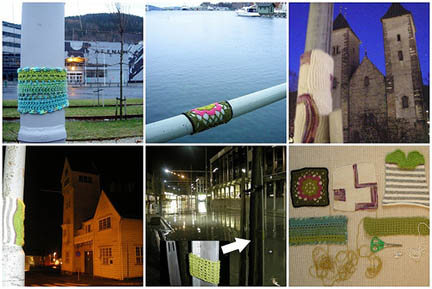 Digg it
...
Del.icio.us
...
Technorati
...
Stumble Upon
..
Reddit
Blogroll
Aesthetic Grounds YouTube Site
Selected Videos on Public Art and Public Space

Best of Public Art Websites
1. Muncipal Website: Indianapolis, USA
2. Administration and Case Studies: Public Art Online, UK
3. Photos of USA Projects: Public Art Network, USA
4. Policy for Art in Buildings: Queensland, Australia
5. Sample Contracts, Call to Artists and Other Documents: PAN, USA
6. Sample MP3 Walking Tours: Lower Manhattan Cultural Council, USA
7. Socio-Political Critique through Public Art: Transform, Europe
8. Artist: Pete Codling, UK
9. Artist Registry: 4Culture, USA
10. Community and Public Art: Community Arts
11. Urban Inventions: Wooster Collective
12. Publishing: Black Dog
Best of Public Space Websites
1. Essays: Jane Holtz Kay
2. Functional Criticism: Project for Public Spaces
3. USA Case Studies: Bruner Foundation
4. Lots of Ideas from DC: Richard Layman
Best of Architecture Websites
1. Essays: Hugh Pearman, UK
2. Selected Architecture Images: Eyecandy
3. Essays: James Russell, USA