Results tagged "Ballantine House" from Real Clear Arts
At the Brooklyn Museum* on Friday, I stopped in to see the just-opened Yinka Shonibare MBE exhibition, which runs through Sept. 20. Unbeknownst to me, it beautifully illustrates one of the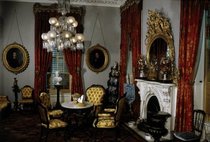 strategies I was going to bring up at my lunch with Director Arnold Lehman for getting people interested in seeing museums' permanent collections. Lehman and the museum's curators were one step ahead of me: they had already displayed some of Shonibare's works within the permanent collection galleries.
Most of the Shonibare show is on view in the fourth-floor special exhibitions galleries, with a couple pieces on the first floor, too. But Brooklyn also asked him to make site-specific works that are on display -- surprise -- in its period rooms.
Retailers have used this strategy for years -- setting up boutiques for, say, Coach leather goods in a department store. When shoppers go in to buy a Coach bag, they stay to shop for other merchandise. (Well, they did.)
What Brooklyn did isn't unique in the museum world, but it's not common, either; other museums can take a lesson from its example. The execution in the Shonibare show is brilliant.
Brooklyn has wonderful period rooms, ranging from the Milligan House Parlor (above) to a Rockefeller House Moorish Room, yet I'd venture that they get little traffic compared with the rest of the museum. For this installation -- called Mother and Father Worked Hard So I Can Play -- Shonibare made seven figures of children, headless as usual and dressed in Victorian costumes of the same Dutch wax fabrics he uses in the rest of his show.
About
Real Clear Arts
This blog is about culture in America as seen through my lens, which is informed and colored by years of reporting not only on the arts and humanities, but also on business, philanthropy, science, government and other subjects...
more
Judith H. Dobrzynski
Now an independent journalist, I've worked as a reporter in the culture and business sections of
The New York Times
, and been the editor of the Sunday business section and deputy business editor there, and...
more
Want to be notified of new posts?
Send an email to
RealClearArts@gmail.com
.
more
You'll Find My Articles
from The New York Times, The Wall Street Journal, Smithsonian, The Daily Beast and other publications at judithdobrzynski.com.
more
Contact me
Click here to send me an email...
more
A Note To Commenters...
Please keep it relevant and civil. I will not publish profanity or other nastiness. Or attacks. Or comments that are really advertisements...
more
Blogroll