From the New York Times, via my friend Megan:
SANTA ROSA, Calif. — …the foundation, called Life Is Art, recently began to
reap a new kind of financing, in the form of tall, happy-looking marijuana
plants. Late this month, with some help from the sale of its first
small crop, grown under California's liberal medical marijuana laws,
the group plans to present an inaugural exhibition on its land, of
sculpture and installation work by more than 20 visiting artists — some
of whom will have helped bring in the harvest. The foundation's hope is
that income from succeeding crops will fully support such projects, in
perpetuity, creating a kind of Marfa-meets-ganja art retreat north of
San Francisco and a new economic engine for art philanthropy.

At a going wholesale rate of $200 or more an ounce in the Bay Area for
superior quality medical marijuana, it's a lot simpler than raising money
the traditional way, the project's organizers point out. And — except
for the nagging fact that selling marijuana remains a crime under
federal law — it even feels more honest to the people behind Life Is
Art. They see it as a way of supporting the cause with physical labor
and the fruits of the land instead of the wheedling of donors, an
especially appealing prospect in an economy where raising money has
become more difficult than ever.
This is the best part:
"The whole game of finding support just started to seem so childish,"
said Kirsha Kaechele, the foundation's director, as she hauled a
plastic tub of freshly harvested cannabis hybrid branches up a hill one
morning recently on her rolling land just outside of Santa Rosa. "So I
decided to grow up and became a marijuana farmer."
And, ahem, this:
They are loath to provide details about how much marijuana they hope to
produce with the first harvest — plant limits vary from county to
county, and they worry about how the Sonoma County Sheriff's Office,
which made an unannounced visit by helicopter in September, interprets
the limits there. But their goal for next year's crop is to generate $1
million after expenses to be used for art projects on the farm and to
send back to support their programs in New Orleans, which they hope
will ultimately be financed entirely by the farm.
One million dollars!! I have a little porch on which I'm currently killing basil, tomatoes, and a Black-Eyed Susan plant. To think I could be using that space to commit a federal crime and commission art!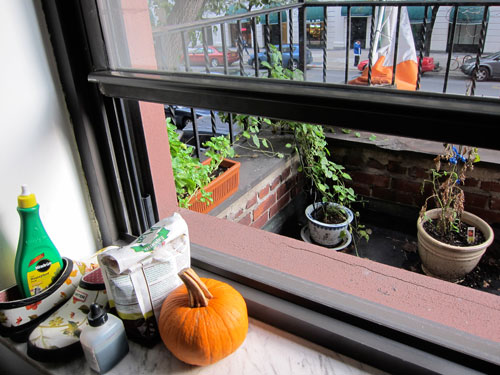 Good thing I'm better at classical music publicity than I am at horticulture.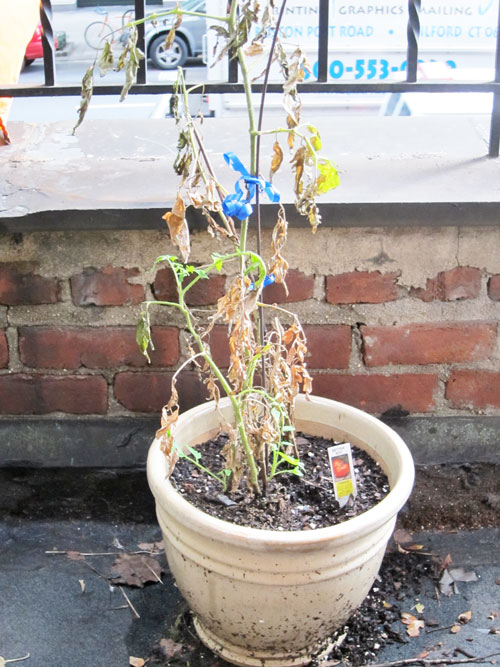 These prize tomatoes probably aren't going to fund anything.