It's 7am here in the City of Angels, and I am enjoying that famous LA sunrise. You know, that one that nips over the parking garages, picking up the glittering reds of the car brake lights and the saturated grays of the smog as it rises only to bow in servitude to the neon studio signs? I'm here because our girl Hilary is the musical guest on The Tonight Show with Conan O'Brien tonight, and in a couple hours I'm off to play Rock Band 2 in the green room (our schedule says it's there) and ask Rob Lowe why Sam left The West Wing.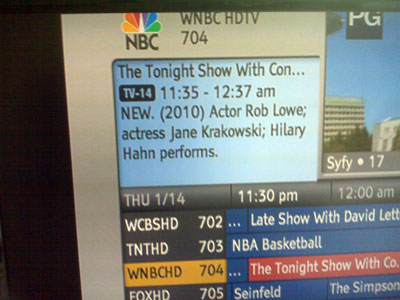 The Tonight Show has gotten more media and public attention this week than any other television show has gotten in months. I'd like to credit this to Hilary Hahn being the musical guest, but I suspect it's because of this:
Outrage toward the network and its decision to put not-ready-for-primetime host Jay Leno back to his old Tonight Show 11:35 p.m. timeslot and to bump Conan O'Brien's Tonight Show
to just after midnight – has officially gone viral. Tens of thousands
of fans have taken to the Internet to show their support for the
spurned O'Brien, who spoke out publicly against NBC's decision this week. (via)
Still could be Hilary, though.
I was going to write this post about what sells albums. I covered for a publicist at a record label two falls ago, and it was shocking to me how little television appearances help classical album sales. With no concrete (or abstract, for that matter) data, I think this is for three reasons. I would do this as a Top Ten list, but Dave doesn't get my support today.
First, most classical labels can't afford to buy TV advertisements during these shows. When a movie star is on promoting a movie, that movie is heavily advertised during the program. Even when a movie gets panned in the New York Times, that movie has a full-page ad (at what, $40K or some such number?) in the Arts + Leisure section. Publicity and marketing wouldn't exist as separate entities if people didn't need to be hit over the head with these things in multiple presentations and locations. The second reason I don't think television appearances sell albums is that people aren't necessarily by their computers during the shows, and they're definitely not at a store that sells records during the shows. These days, the things I buy are what I can click and purchase, or what I actually see in the store. BlissWorld.com is having a sale on body butter? Thanks, e mail blast, I will buy that. You are familiar with my credit card information. Cherry Chapstick is right there as I'm checking out at Duane Reade? Sure, I have 17 half-used cherry Chapsticks at home, but I don't have them Right Now. Thanks, (literal) product placement, I will buy that. The third reason for a lack of sales, I think, is that TV is not an uber-targeted audience. An interview on Violinist.com or a similarly niche outlet has a readership who we already know is interested in what we're selling. Of course I'm beyond thrilled that Hilary is on the show tonight. Appearances like this are fantastic for that ever-elusive "profile-building," which I define as "people name-dropping you at cocktail parties." Will it sell her new album, though? Well, I'll let you know next week.
Right, so I was going to write about what sells albums, but now I'm more interested in what spikes television ratings. For the past couple days, friends and colleagues have been e mailing me articles about The Tonight Show's viewership. And I'm going to choose to take the rampant accusations that Jeff Zucker and I are in cahoots to make Hilary more famous as a compliment. From the Wall Street Journal today:


As NBC and Conan O'Brien engage in a game of brinkmanship over the
future of "The Tonight Show," Mr. O'Brien's audience has surged,
especially among younger people.

About 42% more viewers
between the ages of 18 and 49 watched the "The Tonight Show with Conan
O'Brien" Tuesday compared to a day earlier, according to preliminary
Nielsen data provided by NBC.
On Twitter this morning, in response to this Tweet from New York Times' ArtsBeat editor Dave Itzkoff (@Ditzkoff): "On what planet? Predictions that NBC's late-night morass could ultimately boost ratings and sell more ads: http://bit.ly/6o4r7x," @MarkAShanhan wrote, "If only newspaper morass would have same effect on NYTimes and its properties."
When do PR disasters spell, well, disaster and when do they actually help sales and boost ratings? @MarkAShanhan is right: amidst rumors that newspapers and magazines are shutting down around us, did anyone subscribe to more newspapers and magazines? When told that record stores were closing, did we all wander into a Virgin Megastore out of morbid curiosity and spend? And maybe classical music could be saved if only poorly-sold concerts started with self-deprecating monologues.
Update, 1/15: Right, so, kindly disregard the blog post above. (((awk-ward)))
From 4pm today…