Each week, I'll post an interview with someone far
more
knowledgeable than myself on specific marketing and publicity
subjects. This week, Juilliard masters student (and my assistant!) Allegra Lilly on how prepared she feels Juilliard students are for The Industry post graduation.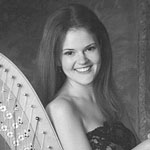 Allegra Lilly began playing the harp at age seven and made her solo debut with the Detroit Symphony at age twelve. Recent honors include winning the Anne Adams Award of the American Harp Society, taking third prize in the Concours International de Harpe in Nice, and being invited to substitute with the New York Philharmonic and the Chicago Symphony. Allegra completed her undergraduate studies with Nancy Allen at The Juilliard School in 2007, and will obtain her Master's Degree from Juilliard in 2009.

What is your major at Juilliard?
I'm now finishing my Master's in harp performance, and I did my undergrad there as well.
How much room is there to take music industry classes in a typical schedule over four years?
It depends somewhat on your instrument, because some departments have more rigorous academic requirements. Also, music industry classes are considered graduate curriculum, so undergraduates can only take them in their third or fourth years. But I think everyone has the chance to take at least one music industry class at some point.

How many music industry classes are taught at Juilliard? What kind of subjects are there?
There are only a handful courses that I would consider "music industry classes." One is "The Business of Music," which I took last year. It's taught by Bob Sherman, WQXR host and former New York Times critic, and frankly, I think it should be required of all music students, graduate or otherwise. We learned the essentials of writing a proper bio, press release, and cover letter, and how to choose a good publicity photo. We also had guest speakers who discussed topics like music education, the orchestral audition process, and studio orchestra work, and Anthony Tommasini came in to give us advice on getting critics to come to our performances.
Another option is the "Career Development Seminar," a course in creating performance opportunities and developing audiences. From what I understand, this class covers a lot of the same material as "The Business of Music," but it's run through the school's Career Services Office. There is also a special class, "The Artist and Contracts," which revolves exclusively around the drafting and negotiation of contract agreements.
Finally, there are two courses taught by Greg Sandow, both of which I took last year: "Music Criticism" and "Classical Music in an Age of Pop." The latter was particularly helpful, because we not only talked about the state of the arts world, we discussed what we could do about it, whether it be through careful programming, crossover performance, creative venue choices, and audience interaction – and whether these approaches distracted from the music itself (we decided they didn't have to). Of all of the classes that I've taken at Juilliard, this one was the most realistic about the possibility of having a successful career as a classical musician at a time when audiences seem restless with the same old buttoned-down format.

Are there business classes offered? Graphic design classes? Is there some kind of partnership program with NYU or Columbia for those kinds of courses?
There is one class that offers more help with the straight business side, called "Writing for the Professions." It concentrates on the composition of business documents, like curricula vitae, grant applications, and application letters. As far as I know, there isn't any class on graphic design – otherwise, I would take it! There is an exchange program: if you have perfect grades, you can apply to take one class per semester at Columbia or Barnard (conversely, if a Columbia or Barnard student auditions and is accepted, he or she can take private lessons at Juilliard).
About once a week, the Career Development Office hosts an open "Lunch and Learn" seminar, in which a speaker comes in and gives an hour-long talk on a specific topic (for example, the basics of recording a demo CD, or health insurance for musicians). They're open to any student who wants to attend…and there's free pizza.

What is the career services set-up at Juilliard? At Dartmouth, I remember the head of career "services" directed me to the "Performing Arts Library'", a shelf over his right shoulder that held three books on arts internships printed ca. 1993…
Luckily for me, Juilliard has a Career Services Office that offers a lot of help. For one thing, they field requests for musicians for commercial events around the city. They get a small fee (nothing near what you would pay a manager), and they make sure you're paid well. You can also go in for a one-on-one career consultation, during which the Career Services Director or Assistant Director will review your promotional materials, listen to your ideas, give you advice, and help you write letters. They even provide résumé templates on the Juilliard website. And they send out a subscriber-based free newsletter to alumni, faculty, and students that provides a comprehensive list of arts job openings in both performance and administration, which is exceptionally helpful!

There are some very young students at Juilliard. Are they expected to take music industry classes? Do you personally think they should?
I'm not aware of any business instruction for pre-college students, and the courses offered in the regular school are all electives. Personally, I don't think you're ever too young to know the practical side of your field, and I absolutely think that at least one music industry class should be required of every Juilliard student. It's a lot easier to learn about the business in a classroom than through trial and error in the real world.

Upon graduation, how many Juilliard students do you think would be able to program, market and publicize their own concerts?

I think a lot of Juilliard musicians make the error of assuming that their talent will be enough, that being a Juilliard graduate will open all of the doors. There was an article in The Times a few years back about Juilliard alumni and where they were years after graduation. As I recall, far too many of them had been forced to give up on their musical careers because they simply couldn't make enough money to survive. The sad reality is that even the most exceptional musician will fail without the necessary business sense. And not only that, it takes endless determination and self-assuredness to promote oneself, and only a combination of these qualities (plus luck) will lead to success. Since I don't even know many people who are talented, business-savvy, perseverant, confident, and lucky, I'm forced to say that Juilliard musicians who fit this description are decidedly in the minority.

Upon graduation, how many Juilliard students do you think join orchestras and feel a responsibility to bring that orchestra to a wider audience?
I know a lot of students who feel that responsibility. Over the last five years or so, I've noticed a distinct change in the attitude of young musicians. Whereas they used to feel that pleasing the audience was akin to pandering, they now seem determined to reach out to those who haven't yet discovered classical music. Far more musicians are speaking to the audience during r
ecitals and exploring alternative venues, and most seemed to have expanded their programming horizons. This younger generation is bringing about a truly exciting change in the very atmosphere of the classical music world, something that's appearing to affect the management, programming, and promotion of major symphony orchestras.

Is there marketing support and/or a budget for student recitals?
Yes and no. Any recital that you give as a Juilliard student, even one that isn't presented as fulfillment of a degree requirement, is free both to the student and for the audience. But if, for example, you choose to do something that requires equipment that the school doesn't have, the financial burden is yours to bear. Also, your recital is only promoted if you choose to promote it through your own means. Recitals are listed in the Juilliard Journal and on the school's website, but getting them listed elsewhere is close to impossible. Consequently, school bulletin boards are constantly papered with posters and flyers that range from basic to hilarious to glossy and expensive. Now that everyone is on Facebook, most students use "Events" to post concert info and invite friends, which generally results in a decent turnout.

Are there any students that you know of who did a really great job programming/marketing/publicizing their student recitals? What kinds of things have people done?
Some of the best programming I've seen was at the senior recital of a friend of mine, Brandon Ridenour, who is an outstanding trumpet player. The first half was all pretty standard trumpet repertoire, but the entire second half of his recital consisted of pop works that he had arranged for trumpet and various combinations of instruments. There were two highlights: Radiohead's "Pyramid Song", which gave me chills, and "Take On Me" by A-ha, which was hilarious. I know there are people out there who think that playing anything non-serious spoils the dignity that should surround a classical performance, but I can't see why that should be the case. I was all the more impressed with my friend's playing because he could play so brilliantly in two such different styles.
As far as marketing, a lot of people have discovered the real way to entice an audience: free booze. Still works like a charm. Apart from that, students are pretty limited in the methods they can use to promote their recitals. For one thing, there are only two halls in the building in which recitals are permitted, so there isn't too much to promote on that account. Also, students can only perform repertoire that is approved by their primary teachers, and many Juilliard teachers wouldn't dream of allowing pop music in a required recital (Brandon was lucky in that his teacher was Mark Gould, who is a member of the experimental band Pink Baby Monster in addition to being a classical badass).
How focused are students on finding managers? Most management companies will only take on a few artists a year, if that. Do students think about positioning themselves to attract attention from management companies, or is that something Juilliard navigates for them?
I don't think management is on the radar of the average student. If you're not a string player, a pianist, a singer, or a flutist, it's very difficult to get attention from a manager. I think most people are just focused on making connections in general, and using those connections to get more performance opportunities. The general consensus seems to be that if you have enough of a career that you require a manager, a manager will probably approach you. Juilliard doesn't overtly offer any information about managers, but it's the type of thing you could discuss in a consultation with the Career Services Office.

If you graduated today and wanted to embark on a career as a harp soloist, would you know where to begin?
At this point, I feel like Juilliard has helped me to acquire almost all of the skills and materials I need to start my career, but a lot depends on the opportunities that arise. If a major orchestral job opens up right after I graduate, I would most likely drop everything to prepare for the audition. If not, I might plan for the next international harp competition, because winning would have a huge impact on my potential to book solo performances. In the end, the key thing I've learned about the music industry is the importance of flexibility. If you have resolved only to work as a soloist, you will most likely end up with an instrument that gathers dust in the corner. If you keep an open mind, the music world will be more open to you.