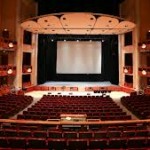 I had two more first time arts experiences this weekend that reminded me of my arts-going life in the Bay Area. One might question the validity of my comparison-making on the basis of an inaugural visit, but I think there's also a case to be made to share initial thoughts. My impressions will no doubt evolve as I get to know these organizations better.
On Saturday, I made my inaugural visit to the University of Colorado's Denver's Newman Center for the Arts. In as much as Newman Center Presents is a university-based presenting organization, it reminds me of my beloved Cal Performances at UC Berkeley. Same high-grade level of talent. Same clientele. Berkeley might have the greater prestige as far as academic presenters go, but  Newman Center Presents has by far the more lovely hall.
Chris Thile performed before a sold-out house. The roughly thousand-seat auditorium is a jewel box with clean lines, understated references to Art Deco in the proscenium arch and lighting fixtures, and a warm sound. Thile played an endearing and engrossing nearly-two-hour-set which veered with its own strange internal logic between J S Bach and winsome self-composed songs about the advantages of dating mandolinists. (They may play too many notes, but you want to take them home with you anyway.) Dressed in a slightly ill-fitting 60s-style suit, Thile was solo on stage the whole time — just him, a stool with a glass of water on it and a small rug around which he occasionally paced. And the room felt very intimate, despite its generous size. I expect Thile's performance will stay with me for a long time hence.
A second comparison point this weekend: The Curious Theatre. I paid my first visit there to see the company's production of Amy Herzog's After the Revolution. Curious focuses on staging contemporary plays, many of them local premieres, in a polished manner. I couldn't help but draw comparisons between this company and two I spent a lot of time with over the years in The Bay Area — The Magic Theatre and SF Playhouse. The Magic focuses on more world premieres, but the earnestness of the work is on a par with Curious. SF Playhouse and Curious share a similar aesthetic in terms of the kinds of plays that the companies are interested in and a passion for stage design. All three companies hire great actors.
I found it hard to relate to Herzog's play, a domestic drama about Marxist politics set in 1999. The characters seemed to be mouthpieces for ideology rather than full-blown people that I cared about. And I just couldn't quite get into the story, despite the fluidity of Herzog's writing and producing artistic director Chip Walton's compact mise-en-scene. I love Curious' digs though. It feels spacious and cozy at the same time.
All this is to say that I'm looking forward to returning to The Curious Theatre and The Newman Center many many times.