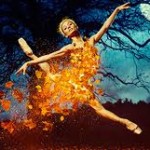 Experiencing the San Francisco's Ballet's new version of Cinderella created by Christopher Wheeldon to the music of Sergei Prokofiev in a co-production with the Dutch National Ballet last night made me think about how much better ballet does, in general, at communicating figurative ideas over literal ones.
The weakest section of Wheeldon's darkly sublime take on the classic story happens at the start, where the dancers are forced to pantomime their way through tons of exposition explaining why poor Cinders ended up becoming a lackey to her sisters and step-mother. The mugging and gesturing of the dancers, no matter how extreme, rarely conveys the meaning in Craig Lucas' libretto. Only the hilarious shoe-trying scene, where a motley assortment of non-Cinderella-like hopefuls line up to try on Cinders' slipper, succeeds on the literal front. This is because the scene is funny and surreal: The queue of toe-wiggling wannabe princesses include male courtiers and twiggy-fingered/tuber-headed woodland spirits, the fanciful creations of the productions brilliant scenic and costume designer Julian Crouch.
Contrastingly, the most powerful sequences in this Cinderella, which dispenses with the fairy godmother and pumpkin coach in favor of four steely yet avuncular Fates and a massive, magical tree, are the ones that allow the choreography, music and design elements to weave a more metaphorical tale.  In this production, thanks in part to the work of puppet master Basil Twist and lighting designer Natasha Katz, chairs, trees and chandeliers "dance." The scene in which the tree (a spirit manifestation of Cinderella's deceased mother) becomes the centerpiece for a gorgeous, colorful sequence in which whirling spirits prepare our heroine for her night at the ball, is intoxicating to watch. Wheeldon's steps are characterful and yet abstract. We are lifted for a moment out of the story and into a more emotional realm. And then the whole thing explodes into one of the most vivid moments of stage spectacle I have ever witnessed. Large wagon wheels covered in leaves and wooden horse heads materialize from the tree. Held aloft by spirit dancers, they merge to form a ghostly carriage that whisks Cinderella off into the a. It's intoxicating stuff.