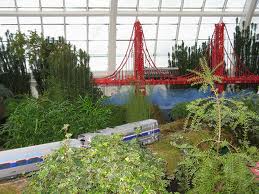 A fab weekend of eclectic arts activities to summarize today…
1. Cutting Ball Theatre's production of The Tempest: Rob Melrose is one of the Bay Area's more thoughtful and creative directors, but on occasion he overthinks things. This is the case with his production of Shakespeare's magical late play, The Tempest. The director tries to impose an uber-Jungian reading on the fantasy which destroys all the magic. The central conceit is that the entire play takes place in Prospero's head, with all the characters being embodied by three actors. The cast members do as best as they can to make the quick switches between parts (a very demanding proposition) but the conceit quickly becomes lifeless and heavy-handed.
2. Train exhibition at the Conservatory of Flowers: The Conservatory of Flowers in Golden Gate Park has a charming temporary exhibit featuring a model train running through a winsome urban landscape whose buildings – all San Francisco landmarks such as the Golden Gate Bridge, the Trans America Pyramid and the Ferry Building – are fashioned from everyday odds and ends like forks, corks and keys from computer keyboards. Watching the train chug by while enjoying the gorgeous detail of the installation is a lovely way to spend some time. The exhibit also makes for an interesting contrast to the hothouse next door with its dripping ferns and fat lilly pads. Both the train exhibit and the plant halls communicate a sense of abundance and inspire the imagination while suggesting a quirky symbiosis between the natural and man made worlds.
3. Holiday ice dance show at the Yerba Buena Ice Skating & Bowling Center: The ice-rink at Yerba Buena Gardens is one of San Francisco's best-kept secrets. People flock to the open-air ice-rinks at the Embarcadero and Union Square, but the city's lovely permanent rink (where the Olympic gold medallist Brian Boitano regularly hones his skills) often gets passed over. Yet for locals who take ice skating seriously (or at least think of it as a real hobby rather than a once-a-year, post office-holiday-party fling on one-too-many eggnogs) the rink is a bustling home. The Christmas show, based on a "Dancing with the Stars" theme, displayed the ice skating center's range of skill-levels. There were tiny children in purple spangly outfits skittering on the ice like baby penguins taking their first steps, pros-in-the-making doing flawless pirouettes and triple lutzes and adult amateurs linking hands and skating in careful formation. The music erred on the cheesy side (think Whitney Houston, Lionel Richie, Elton John etc), the costumes sparkled and the thick makeup made even the five year olds look like drag queens. The tackiness seemed to work well with the happy, holiday vibe of the event. I was excited by the amount of talent on the ice as well as the broad-based community feeling of the show.
Oh, and I'm skipping town for a few days. Lies Like Truth will be back on Friday or next week…