The decimation of The Daily News brings back memories of the two-and-a-half miserable years I worked there. I had been hired away from the Chicago Sun-Times, where I'd spent happy times during the early 1980s — actually thrilling years — before Rupert Murdoch bought it. To my ridiculously innocent surprise I discovered that a NYC tabloid by contrast could be a back-stabbing horror of a place to work, especially if you've been enlisted as some kind of out-of-town star to write fancy Sunday features about Hollywood movies and Broadway theater. The general thunking went like this: Our fair city runneth over with talented feature writers, so why have the people in charge bothered us by looking elsewhere? But never mind.
I sat next to
Jay Maeder
, an inimitable writer (brought in from the Miami Herald, I should add) who would go on to a stellar Daily News career. Behind me sat
Rosemary Breslin
(Jimmy's daughter), a first-class human being with a smile as bright as a headlamp, generosity to spare, and a great sense of humor. She would later write
Not Exactly What I Had in Mind: An Incurable Love Story,
a delicious memoir as touching as any I've read. They were my oasis of friendliness — along with
Harry Haun
(a film and theater specialist, and a celebrity connoisseur), and a few others among those I regarded as mostly a cold bunch of trench mates.
Even then there were so few resources that the feature reporters had to share computers to write their stories. Whoever got to a computer first claimed it, and you didn't get up out of your chair or you lost your place and risked not making your deadline. At one point I was assigned to write Liz Smith's column when she went on vacation. That gave me the envied perk of computer privileges because her column not only ran daily, anchored on page 10 of the paper, but was syndicated to 80 or so other dailies around the country. I didn't want the column. Harry had written it in her absence, but for some unknown reason (probably because a higher-up bore him a grudge) Harry was pulled, and I was assigned to the job.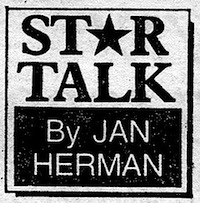 While I wrote the column, the paper renamed it St*r Talk and gave it a logo with my name in bold letters. I was suddenly a big shot. All that was missing was my name on the side of the Daily News delivery trucks. A deluge of press releases from every publicist for every celebrity and every restaurant in town landed on my desk every morning. I ignored them, although to keep Smith's regular supplicants happy I couldn't avoid using a few. Since I had some contacts in the world of broadcast television and preferred to do my own reporting, I highlighted insider info with a column lede like this:
Just when Maria Shriver must have thought it was safe to go to work at "The CBS Morning News," where she's co-anchor with Forrest Sawyer, comes a report that CBS News boss Van Gordon Sauter is secretly talking about hiring Connie Chung away from NBC for — guess what — the 'Morning News."
I suppose Maria Shriver's name still has caché, but Connie Chung? Forrest Sawyer (was that his real name?)? Van Gordon who? Sometimes I got unsolicited tips and mounted a soap box with a lede like this:
It's astonishing what a little notoriety will do. Rock Hudson's ex-lover Marc Christian, whose only purchase on fame is his claim that Rock never told him he had AIDS, is being paged by the United States Information Agency for its anti-AIDS campaign south of the border. Can't the government think of a better expert for our tax dollars?
When the agency complained about the item, I followed up like this (not forgetting the value of re-using milkable names):
INFORMATION, PLEASE: The United State Information Agency phoned to say it's not paying half the production cost of a Chilean TV broadcast on AIDS featuring Rock Hudson's ex-lover Marc Christian, as we told you. It's merely financing the cost of the camera crew's travel to and within the country, a spokesman says. And Christian is only one of many experts they'll be interviewing. So how much will it cost? $3,000. Maybe they're traveling by donkey.
Because I liked books, I highlighted publishing news with lead items like this (to my editor's displeasure):
"The rise of the Mutant Elite" is Marcelle Clements' brilliant term for the growing population of hard-boiled men and tough women who never feel helpess because they're too busy acquiring money and power. You can tell when you're among the Mutant Elite, Clements points out in her must-read book of essays, The Dog Is Us (Viking, $17.95), because of their fondness for expressions like, "He's such a barracuda" — said, of course, with grudging admiration.
My assignment lasted for two sweaty weeks in the middle of winter, and I filled the space with bold-face names like Sally Field, Gene Hackman, Tina Turner, John McEnroe, Jane Fonda, Steven Spielberg, Mary Tyler Moore, Omar Sharif, and Barbra Streisand, never forgetting to attach a zinger of some kind if possible. For instance:
Nobody ever accused Chevy Chase of good taste. The "Spies Like Us" star, who knocks back movies like a shot and a beer at the neighborhood tavern, says John Belushi "turned down the script in a radical way — he died." Nor has Chase ever been accused of having a small ego. "When John was alive and working, he never really did anything memorable besides 'Animal House,'" Chase says. "He came to me when he was cast in 'Continental Divide,' which I had turned down, to ask me how to play a romantic lead."
The paper's editor-in-chief Gil Spencer, whom I didn't know, ran into me in the hallway one time and asked in a joking tone whether I was embarrassed by having to write all "that stuff." I was glad to be rid of the assignment when Liz Smith returned. But Spencer's remark told me that a former Pulitzer Prize winner (for editorial writing before he came to the News) was reading me. Such was the high point of those miserable years.