The print edition logo for Michael Kinsley's new opinion slot in The New York Times
says it all. Well, almost all. What it doesn't say is how disgusting it is.
Kinsley's first column is not only awful, but worse, he will be "revisiting this theme regularly."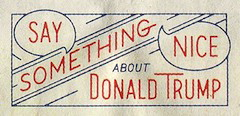 It looks like The Times is repositioning — a better term might be auditioning — to accomodate
el presidente Twitter Fingers and his tweet followers. Which is even more disgusting.
Postscript: May 8 — This is the tagline for the column: The president's flaws are well known to readers of many mainstream media outlets. Our purpose with this feature, which will appear regularly in Sunday Review, is to present things the president has said or done that are praiseworthy. Any suggestions?