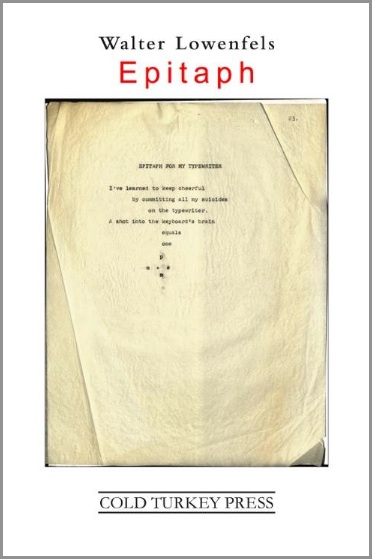 EPITAPH FOR MY TYPEWRITER
I've learned to keep cheerful

by committing all my suicides

on the typewriter.

A shot into the keyboard's brain

equals

one

p

o + e

m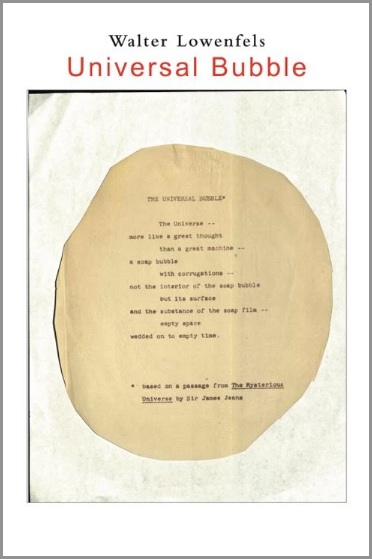 THE UNIVERSAL BUBBLE*
The Universe — more like a great thought

than a great machine —

a soap bubble

with corrugations —

not the interior of the soap bubble

but its surface

and the substance of the soap film —

empty space

wedded on to empty time.

*based on a passage from The Mysterious Universe by Sir James Jeans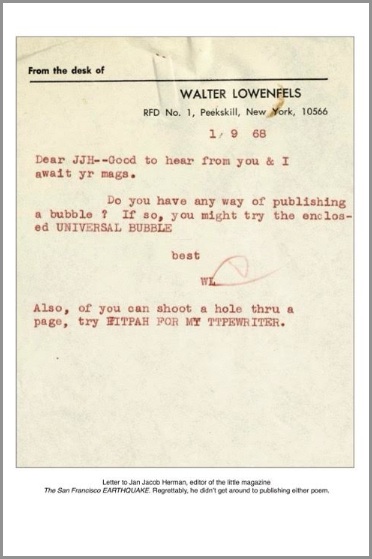 Letter to Jan Jacob Herman, editor of the little magazine The San Francisco EARTHQUAKE. Regrettably, he didn't get around to publishing either poem. (But now Cold Turkey Press has, in a folio limited to 36 copies.)
(Poems © by Walter Lowenfels. Printed courtesy of the Charles Deering McCormick Library of Special Collections, Northwestern University Library.)
Click to read abbreviated biographical info about Lowenfels.