Anyone who thinks this blog is Burroughs Central has no idea. The fact is, I'm just skimming. The real Burroughs Central is RealityStudio, where the true aficionados congregate for deep postings by Jed Birmingham's Reports from the Bibliographic Bunker. For example, he recently made the case that le maître's cut-ups in the mimeo mags of the '60s are far more satisfying than the novels of his so-called cut-up trilogy (The Soft Machine, The Ticket That Exploded, and Nova Express). Jed goes into great detail, brilliantly as usual, but his basic point is that the cut-ups in the mimeos "are all short-form cut-up experiments combining image and text," whereas "the cut-up novels are one-dimensional; they are flat, with the exception of the end of The Ticket That Exploded and the various dust jackets of the novels." Yes, he gets into the design of the dust jackets. It's all about the details. He extracts meaning from details like he's a codebreaker at Bletchley Park. I wonder what he'll make of this design, coming any minute now from Granary Books.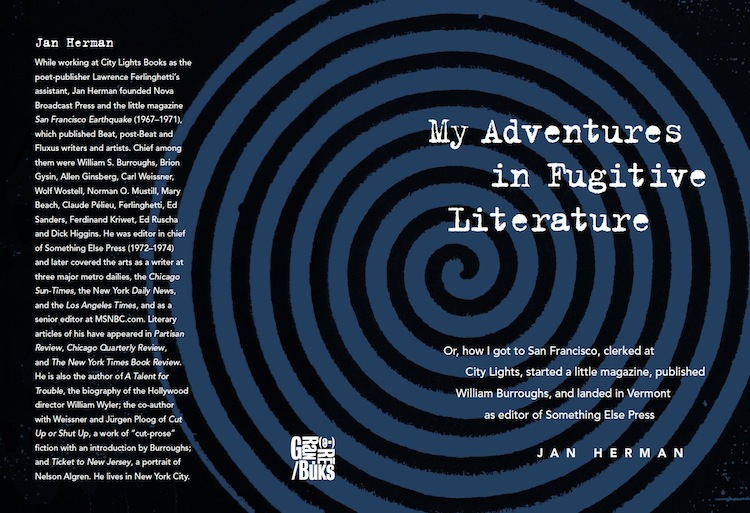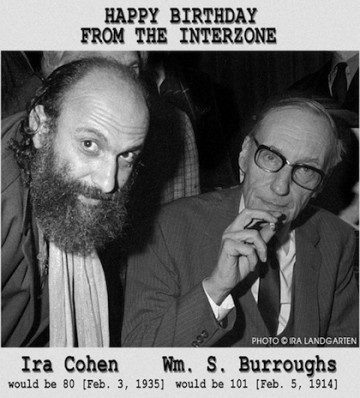 Anyway, there has been so much to-do about the 101st anniversary of Burroughs's birthday, that all sorts of items have been pouring in. This photo, for instance, of two birthday boys. I was too lazy to ask where the photo was taken or when exactly. But Interzone refers of course to the international zone of Tangier, where Burroughs landed in 1954 and found "a sanctuary of sorts in its shadowy streets, blind alleys, and lowlife decadence," as James Grauerholz notes, and where Ira Cohen showed up in 1961 and first met Burroughs and others in the Morocco expat community, like Brion Gysin and Paul Bowles. For anyone who has no idea of who Cohen was, here's an incisive biographical summary with samples of his far-flung little mags of the '60s and '70s from Amsterdam to Kathmandu.
Then the other day (Jan. 30) on WBEZ, Chicago, there was mainstreamer Ira Glass playing a BBC radio documentary from a year ago, with Iggy Pop, John Waters, Oliver Harris, and others talking about Burroughs, which turned Glass on for the first time. Burroughs "just wasn't my thing," Glass says. "I didn't see what the big deal was. His ideas didn't seem interesting. I knew there were lots of really smart people who love him. I did not get it. And then I heard this radio documentary about him. And there's no other way to say this. I got it. I saw why people go nuts for him." Listen to the broadcast.
Meanwhile, Miles, who wrote
the definitive Burroughs biography
, is leading a discussion of
"Cut-Ups as a Revolutionary Weapon"
over in London on Saturday (Feb. 7) at the October Gallery, with Stewart Home and Shezad Dawood. And for the icing on the London cake, how about the exhibition
A Man Called Burroughs: photographs by Harriet Crowder
at The Function Room. It opens tomorrow (Feb. 5) and will show "for the first time" photographs of
Burroughs in England
dating from 1960, including "the surprising location of the
iconic portrait
that is familiar to most Beat bibliophiles from the cover of the 1965 LP 'Call Me Burroughs.'" Additionally, there will be a
catalogue
— click it, 'tiz fascinating — with an introduction by Oliver Harris and notes by Jim Pennington.
Burroughs himself is not around anymore, of course. But his ghost is, according a moody novel, Ultrazone, cowritten by Francis Poole and Mark Terrill, which is being serialized in weekly installments in BODY, an online lit mag based in Prague. The ghost has returned to Tangier "to recover and destroy a missing manuscript" he believes is harboring the Ugly Spirit. You should know that Burroughs believed he was under "the constant threat of possession" by an invader termed the Ugly Spirit and that he regarded his writing as a lifelong effort to break its hold on him. You should also know that the story involves a fedora that Burroughs wore, or rather a missing fedora. Ultrazone begins like this:
It was that time of day when the length of a man's shadow is the same as his height, and in the cemetery of the Anglican Church of St. Andrew in Tangier, Morocco, there's one single shadow that always falls in the wrong direction. It's the shadow of Walter Harris, usually wearing one the many Riffian tribal disguises he had worn when alive. Harris had lived in Tangier for many years as a correspondent for The Times and as a member of M16, the British foreign secret service. A world traveler, an arms dealer, a colorful, gay expatriate author shrouded in mystery and intrigue; in many ways Harris was the ur-Tangerino, a prototype for the many characters that would come to populate Tangier in the years to come.

Harris had died in Malta in 1933 at the age of 66 and his body was returned to Tangier and buried in the St. Andrew's cemetery. […] A simple and elegant headstone in the form of a miniature Moorish façade sheltered by a projecting roof of green tiles was later erected over Walter Harris' grave. Since then his ghost had reportedly been seen many times at night moving through the churchyard in the leafy shadows cast by the full moon, and sometimes even in broad daylight. His ghost was a restless one, perhaps anxious to get back to Malta, but unable to do so as long as his remains were interred in Tangier.

Moustapha, the cemetery watchman, although relatively well-versed in Moroccan black magic, didn't know the appropriate spell for getting rid of the ghost of the Englishman. Having been brought up as a Muslim, Moustapha was taught that ghosts as such did not exist, only djinns, supernatural creatures who inhabit an unseen world in dimensions beyond the visible universe of humans. Like human beings, djinns can be good, evil or neutrally benevolent, and hence have free will like humans and unlike angels. But after his many years as watchman in the cemetery, Moustapha had come to believe that ghosts existed as well, often haunting a particular locale, and thus becoming a source of continual annoyance, as was the case with the ghost of Walter Harris. There was a café not far from the cemetery where an old sorcerer with a lazy eye could usually be found smoking kif. On several occasions Moustapha had seen him in the cemetery picking datura flowers and other strange plants. Perhaps it was time to pay him a visit.
Before I forget — if only I could, but how could I? — there's a gathering skedded
Friday here in New York
, organized by
Three Rooms Press
publisher/editor Peter Carlaftes, at the Cornelia Café in Greenwich Village. I'm told it will star Anne Waldman and Penny Arcade, who are top billed, with a few others along for the ride (no offense intended), including Steve Dalachinsky, Aimee Herman, and yours truly (no relation to Aimee, at least I don't think so, but maybe there should be).
Postscript: Feb. 9 — This was the lineup: