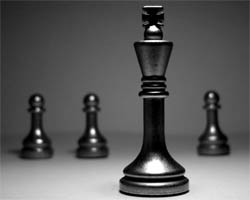 As these things tend to happen, I read Kyle's post on leaving the baggage of scores and recordings behind by going digital, and then a couple hours later while flipping through the New Yorker, I stumbled upon an observation from Sasha Frere-Jones pointing out that what was once conjecture is getting closer and closer to plain old truth: "recordings have become advertisements for shows." Sure, sell what you can, but then don't sweat the illegal downloads. Digital copies don't mean anything when they are essentially infinitely reproducible. The copy costs pretty much nothing to generate, so monetizing the copy itself is probably a losing game. Raising an army to protect it is often even counterproductive. Ding, ding! It's time to wake up and move on.
Both of these concepts relate to some of Lessig's ideas: the real game is not the copy and we're just spinning our wheels deeper into the mud (intellectually and practically) the longer we pretend it is.
When anyone can have pretty much anything, getting people's attention will be the challenge. Many probably won't even look for what little is sucessfully kept from them. However, when media is a vast sea, most of us will be looking for some sort of beacon to cling to; a place where we feel at home and maybe even serve as a productive part of the club. What this suggest to me is that rather than trying to plug the dam and protect the precious copies, the smartest among us are experimenting with positioning their content as close to the front lines of their community's public conciousness (and in the best cases monetized–even if the $$ won't happen for a while–access) as they can mange. It's dangerous out there, sure, but it's the place to be.
As the celestial jukebox of digital content moves from concept to reality, the tastemakers will be key, and who will those powerbrokers be? I doubt it will be the usual guest list. A new guard is coming down the pike, and when it comes to the fine and performing arts, I'm dying to see who will take that crown.