Can we declare today Create Something Day? Or how about this week?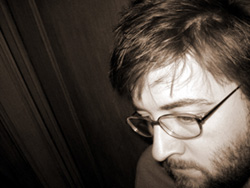 I bring it up because I'm feeling inspired, and David Morneau is my flashing beacon. Every day for the past year David has produced a new 60-second composition, and his personal creative marathon is over today! Congrats, David! 
Like the most irritating news reporter, I rode along side him during the home stretch and shouted out some questions from the air-conditioned pace car. Morneau must not have been even slightly winded, because he gave me some of the most thoughtful and inspired answers I've heard in a long while. Now I really want to make some art myself. And I think some serious deadline pressure is what it's going to take to make it happen.
[cue theme music]
Get the Morneau creativity pep talk here and listen to the music here.