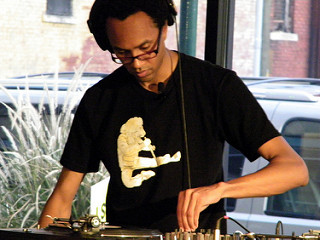 Some time ago I happened to catch a segment on the PBS News Hour featuring the Harvard educated DJ Jace Clayton (who goes by the name DJ/rupture). He works by collecting music of all kinds from all over the world and creating fusions of many styles. He seeks out interesting and unusual music in villages, street corners, and back alleys. Any music is worthy of consideration. Dancing is, of course, an ultimate goal.
By itself I found this fascinating. However, one quote in particular resonated with me in the context of my work in community engagement. He approaches every locale with the framing question: "What's special here?" He is of course primarily interested in the music in each place. But it is this wisdom, that every community–every community–is a repository of assets of value to many outside the community that leapt out at me.
Too often (far, far too often), work that is thought of as engagement work views the arts organization or arts professional as the exclusive bearer of resources. Of course the prime taboo of engagement is doing things "for" rather than "with" those one is seeking to reach. This inevitably leads to failure and frustration for everyone involved. However, even if a sincere effort has been made to work "with" the community rather than do things "for" it, potential contributions of the community to the project are often missed because no one thought to consider what is special there.
All communities have valuable assets. Identifying and employing them will strengthen, deepen, and make more successful any engagement work.
Engage!
Doug
Photo:
Some rights reserved by djzippy