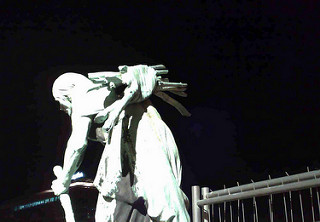 This post is the second of a three-part series that is not strictly about community engagement. However, to engage with communities with which one is not familiar it is essential to understand the dynamics of privilege. This is especially true when the "engager" is as directly viewed as a representative of wealth and power as is the nonprofit arts establishment. (When the series is completed, I will post the entire essay on my website.)
Last week's post (Privilege/Encumbrance: Part I) dealt with the issue of privilege and encumbrance–or more simply, burdens–and presented an introductory discussion of "Isms."
---
Socio-Economic Privilege/Encumbrance
At extreme upper end, economic privilege is more apparent than other types of privilege simply because people understand that many aspects of life are easier if you have money than if you do not. However, even the very well off have to be reminded of this unless they come from families where noblesse oblige has been deeply ingrained. (At this point noblesse oblige may need to be explained. Over the last generation, the idea that with wealth and power come responsibility to use them for good, a notion once quite widely accepted by patrician families, has become far less prevalent than was the case before the 1980's.)
At the risk of stating the obvious, the more access to money one has the easier the basics of life are. As examples:
In housing,

A wedding present of a home or the gift of a down payment are unthinkable possibilities for most.
Sufficient income to save for a down payment on a house is beyond hope for others.
The deposit for an apartment is equally unattainable for many, meaning they are limited to SRO's (single room/residence occupancy housing) where available or shelters (at best) where they are not.

In food,

Where better prices can be found through bulk purchases, individuals with limited incomes cannot take advantage of them.
Access to grocery stores is frequently dependent upon the area in which one lives. "Food deserts" are a natural part of high poverty neighborhoods.
Protein is more expensive than carbohydrates, leading to obesity and/or poor nutrition in lower income families.
Social privilege, another relatively visible privilege, has to do with access, via family or career connections, to "how things are done," to decision-makers, and to gatekeepers who can help resolve problems.
First generation college students are at a profound disadvantage from the beginning. Contrasted with those for whom the expectation of a Bachelor's degree is a foregone conclusion, the very idea of attending a college can be foreign. Setting foot on a campus can be intimidating for them; family reactions to mid-term grades can be over- or underplayed; knowing when (and with whom) to discuss changing circumstances as they apply to financial aid is unknown territory. This severely limits their capacity for success.
For entrepreneurs starting a business, introductions to bankers, lawyers, or zoning officials can be invaluable. Such entré is denied those without family or career connections.
When an insurance company denies a claim, awareness that the denial can be challenged is learned, not innate. Knowing with whom (and how) to pursue a denial (even the fact that it can be fought) is largely unimaginable to those who grew up outside the "establishment" without good social connections or experience.
In each case above–economic and social, most people are highly aware of those in better circumstances and frequently oblivious to the experience of those with fewer advantages than they. However, among the various forms of privilege, when pointed out, those with these privileges–at least at the extreme end–can often see their relative good fortune.
Identity Privilege/Encumbrance
Identity privilege/encumbrance is brought about by the isms mentioned earlier. Some are the result of highly visible characteristics–racism, sexism, ableism (often visible), ageism; others are far less so or are invisible–heterosexism, nativism, sectarianism, classism. The former are inescapable. The latter bear with them some choice as to whether an individual publicly "claims" their difference.
No one can truly know the experience of anyone else. However, this is especially true when someone else's experiences are profoundly different from one's own.  It is this that makes understanding the privilege/encumbrance generated by isms especially difficult to appreciate.
In addition, highly visible differences (gender and race as examples) yield either/or encumbrance. One is burdened by being a woman or being of a different race. You are not if you are male or of the dominant race. (Certainly in the case of the racism faced by African-Americans some variation is associated with depths of skin tone but that is a subject for another day.) In these differences there is little of the graduated privilege associated with levels of socio-economic status. (The 1% are better off than the 10% than are the 50% than are the bottom quarter.)
The best way to begin understanding this dynamic is to consider the burden that isms place upon those in the encumbered group. Blatant bigotry, of course, takes a tremendous toll; but the accumulation of less obvious impacts can often be even more debilitating. In the case of African-Americans, pervasive awareness of "otherness" when in social situations dominated by white culture is a weight in itself. The luxury of being unaware of race is a privilege available only to whites in most public settings. Whites who visit African-American churches often comment on being, in that setting, constantly aware of their difference, their "otherness," and of the toll it takes–they may enjoy the religious service but many are exhausted by it. That is the non-white experience during most waking hours of almost every day.
Another, though related, emotional weight borne by "others" in our society lies in assumptions about how we will be treated. This is a particularly difficult issue for whites to understand. By and large, if race is the only consideration, whites, when they walk out the door in the morning, assume that they will be met with civility by most people they encounter. There is no need to prepare themselves or "put on a game face." Many African-Americans, on the other hand, believe, with considerable justification, that at least some of the people they encounter will harbor negative impressions of or even ill will toward them. The need to consciously prepare for such interactions, even if they do not occur, requires a good deal of emotional energy. Imagine knowing that you had to participate in a meeting attended by someone who despised you. Mental preparation is essential, and draining.  Again, this is a daily experience for both African-Americans and many Hispanics/Latinos.
Beyond this baseline toll, there are the extra burdens that accompany isms. As but one category of example, African-Americans have numerous encumbrances that are foreign to whites. A few among them are:
The need for parents to explain to their children the extreme care they must take in routine interactions with police (and living with anxiety about the potential for danger in such interactions);
Awareness that they are being closely watched when they shop;
Knowing that men are viewed as threats;
Higher deposits, fees, prices, and interest rates required for insurance, purchases, rentals, and loans.
The list could go on at great length. The point here is not to document the various burdens inflicted by isms but to remind that they exist. Taken together, living with these burdens requires the expenditure of a great deal of will and emotional energy before one can simply arrive at the playing field. The privilege of avoiding this drain on one's psyche is almost totally invisible to those who enjoy it and distressingly obvious to those who don't.
The targets of less visible or of invisible isms have some luxury of choice about whether to publicly identify with their target status. However, even if they do not do so, they bear the burden of "their secret," the awareness of what "coming out" might mean, and the knowledge of the price paid by their peers who have.
Next time: Structural Privilege/Encumbrance

Engage!
Doug
Photo: Some rights reserved by St.A.