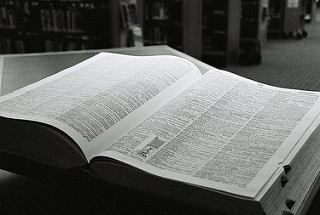 Last November Matt Lehrman, author of Audience Wanted, ran a series of posts attempting to address the meaning of "audience engagement." The need to do so will probably never end as we have so many different uses for those words and so many different factors to consider when we do so. Nevertheless, definitions are one of my abiding passions.
I confess to great sympathy with everyone struggling with definitions. In the four plus years I have been shepherding Engaging Matters, I've explored this topic many, many times. And I've found my understanding evolving. So it's probably worthwhile, once again, to explore the topic. I'm confident it won't be the last.
The language has become fuzzy as a result of overuse and casual use of terminology as well as the need to use the same or similar terminology in vastly different settings. While it may seem overly "academic" to look for clear(er) definitions, articulating differences among audience development, audience engagement, and community engagement allows us to take advantage of what each has to offer. A complicating factor in definitions is the need to articulate who is the "actor" and what is the intended result. As I discussed in Artcentric Engagement, there is a way to understand "community engagement" as community members engaging with the arts organization for the organization's benefit. While this may be a perfectly acceptable way to understand the combination of the two words, it does little to address the pressing long-term need to expand reach and increase community relevance.
In another example of the difficulties with the terminology, Greg Sandow, in his contribution to Matt's series of posts ("Words that Worry Me"), expressed discomfort with the idea of "audience engagement" as being an admission of failure. In reading his comments, which are spot on, it is clear that he is viewing this from the "audience engaged with us" perspective. Are they or are they not enthusiastic, committed, etc.?
For the purpose of discussing the future of the arts and what arts organizations can do about it, there is considerable merit in viewing the arts organization as the actor seeking to interact with external publics. In this context,  then:
Audience development is any set of activities for increasing immediate arts participation (ticket sales and/or attendance) and donations.
Audience engagement is the work of deepening relationships with current audiences for the purpose of improving retention, increasing frequency, and expanding reach through their networks.
Community engagement is the development of relationships with groups of individuals. If these are groups that have little current contact with the organization, the outcomes sought are long-term (often very long-term) enhancement of reach and frequency within the groups. In some circumstances, community engagement can also support access to non-arts funding and a vastly improved public policy environment.
Engagement, whether audience or community, implies relationship building. Best practice in community engagement demands a mission-level commitment on the part of the organization and mutuality of benefit–both the arts organization and the community gain from the work done.
Engage!
Doug
Photo:
Some rights reserved by greeblie