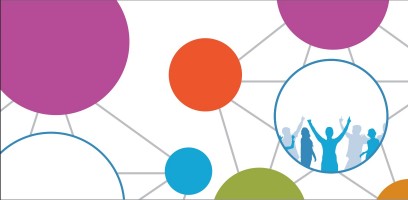 The Helicon Collaborative and the Irvine Foundation have partnered on a "hit it out of the park" report addressing substantive engagement. Making Meaningful Connections presents research into the most effective practices in efforts to engage with diverse communities. (I felt this way before I saw that Building Communities, Not Audiences was listed in the bibliography.) In the introduction they make the case that engaging with new communities is very like developing new friendships and involves:
Deciding you want to do it
Committing the time required
Cultivating trust
Seeking out common interests and mutual benefits
Respecting the others' preferences and schedules
Sharing experiences and having fun
Great list! And the basis for a very good start.
They do not belabor the need for commitment to pursuing diversity, but make some fairly self-evident points, chief among them being "The lack of congruence between the participation in 'benchmark' nonprofit cultural institutions and the changing demographics of the country is becoming stark." The practical need to embrace diversity should be self-evident by now.  (At the same time, let me reiterate a previous caveat: The Self-Centered Pursuit of Diversity.) The report identifies three "Core Commitments" in mission, leadership, and cultural competence and five areas of "Organizational Practice"–welcoming venues, respectful relationships, programming, analysis (collecting and utilizing data), and business model. That last is particularly important because it makes clear the fact that efforts cannot be dependent upon dedicated outside funding but must become incorporated into the total budget, often via re-tooling the use existing resources. The authors also acknowledge that there may be fallout among current supporters. (However, I would argue, as I have in the past–Develop Allies–that the essential gradualism required for effective engagement can provide the time for restructuring relationships with those supporters.) This is a good overview of essential principles for effective engagement with diverse communities. A concluding observation from the report–"The organization must make a wholehearted and institution-wide commitment to building meaningful relationships with people who reflect the diversity of its community."–reinforces that point that success requires the efforts to spring from true belief in their merit and not external pressure or "mere" existential fear.
Thanks to the writers and the Irvine Foundation for this contribution to the work of engagement.
Engage!
Doug