The New York Times recently published a feature story on the state of concert music freelancing: Freelance Musicians Hear Mournful Coda as the Jobs Dry Up.
It was a good living. But the New York freelance musician — a bright
thread in the fabric of the city — is dying out. In an age of sampling,
digitization and outsourcing, New York's soundtrack and
advertising-jingle recording industry has essentially collapsed.
Broadway jobs are in decline. Dance companies rely increasingly on
recorded music. And many freelance orchestras, among the last steady
deals, are cutting back on their seasons, sometimes to nothingness.
It's not as if I didn't know the story well, but I do have to say that there was something about reading (and watching the videos) that took my breath away. I thought Daniel Wakin did the story justice.
I have felt for quite some time that the forces conspiring to diminish the field of concert music are forces that are much more complex, difficult to understand, and perhaps impossible to alter than most people might believe, particularly when folks like to place the blame on easy targets such as a lack of music and arts education in the schools.
I was glad that the article presented some salve, perhaps hope even, in the ways in which younger artists in particular are becoming more entrepreneurial, adapting to and trying to seize opportunities in the changing landscape.
I do have a reflection to add to the story, maybe you could argue that it's an extension really.
I tend to view this issue, the decline of the concert music life for professional musicians, through three different periods: the 1950's, the 1980's, and today. It is framed by something said to me by a teacher, mentor, and dear friend, Gilbert Cohen, who played second trombone for the New York Philharmonic. That's Gil, second from the left, in a picture of the New York Philharmonic low brass section, circa 1964.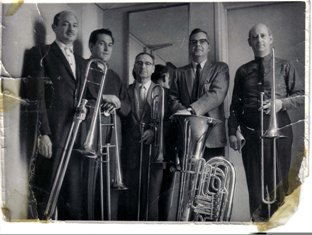 Near the time I was to graduate Juilliard, Gil Cohen, whom I had first met at a side-by-side concert with The New York Philharmonic and The NYC All-City High School Orchestra (we were both second trombones), later becoming close friends, said to me: "I worry about young guys like you coming up. I just don't see much of a career to be made."
Gil went on to talk about what it was like when he was freelancing in New York City during the 1950's, prior to joining The New York Philharmonic.
He told me that he rapidly became one of the top freelancers on bass trombone, and that he worked from morning until night, seven days a week, as much as he wanted. He went further to add that numerous players made a living simply from the gigs he sent their way when he needed substitutes. He talked about there being orchestras all over town, including for television and radio stations, a large number of Broadway musicals, which all used large orchestras, numerous local orchestras throughout the city, and much more. He said there was more work than he knew what to do with, including playing student gigs with Young Audiences New York, recording sessions, subbing with the New York Philharmonic, playing with ballet and opera companies. He said that when he joined the New York Philharmonic in 1964, that it was a letdown, going from the great variety to a regular symphony gig. As he was retiring, in thinking back to his days as a freelancer, he expressed some regret for having made the move to the Philharmonic, while recognizing that practically every player in the country today wanted that job.
He then turned his mind towards today, keep in mind that the "today," that day or period, was approximately 1983. He said that the field was a fraction of what it had once been in comparison to the 1950's, and wondered how young players would make a living, in light of the number of graduates and the reduced field. Unless you got a major orchestra job, he said he worried, and everyone knows how hard it is to get such a job.
Fast forward to 2010, and the article in The New York Times. If you read the piece and don't know the story Gil Cohen told, you might get the impression that the decline has been something less than gradual, something that hasn't been ongoing for the past fifty years.
For these types of musicians, who play this music and these instruments, Gil Cohen paints story paints a much longer term picture. I would argue that what's happening today is an erosion that has reached the most top level freelancers, who may have been protected, to some degree, by the declines since the mid-20th century.
Don't get me wrong, I do recognize the the musical life in the United States is much more varied than it once was. There are more smaller productions, more new music, and artists are creating their own to replace such things as a record industry, artist management, etc. There is a wider array of styles and forms, and the field has expanded to include the teaching artist. But, if you're a classically trained trombonist, clarinet player, etc., well, the Times piece by Daniel Wakin is certainly something you understand all too well.
Can the changes be stopped, slowed down, or altered in any way? Has it hit bottom or leveled off? I tend to think not, for I believe the forces at play are not malleable. Sure, the musicians union can stave off having Broadway producers going to fully synthesized pit orchestras. But, can the union bring back the number of shows during the hey days of Broadway that used pits full of orchestra players. It's doubtful at best.