Wednesday Morning, May 12…
I am on my way this morning up to Albany, the New York State Capitol, for a lobbying trip. Nope, it's not "lobby day for the arts." It's just another day where one of my colleagues and I go up to meet with legislators and their staff members, to advance CAE's legislative agenda. A few of us are registered lobbyists. Yes, Martha, lobbying is legal for non-profits, within certain prescribed limits.
What are we lobbying for? There's some legislation we're associated with that has been introduced in the New York State Legislature, intended to bolster and energize the state law regarding minimum levels of arts instruction. It's all connected to the dreaded c-word: compliance, the very word and business that many state departments of education would like to get away from for they feel they cannot do much around enforcement.
"We are going to get out of the compliance business and focus instead on creating demand," was the precise phrase I heard recently from a senior state education official.
But that not what I want to write about today. First off, if you've never taken Amtrak from New York Penn Station to Albany, you're missing one of the great train rides in America, even perhaps the world. The train travels up along the eastern banks of the Hudson River, and it is just glorious.
Time to listen to some Pete Seeger on my iPod.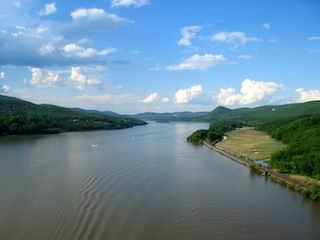 At some point in the next few hours, my colleague Lori Sherman, Director of Development at CAE, will hit send, something I have come to view as the equivalent of sending an unmanned space ship on an exploratory mission of an outer galaxy, namely the submission of CAE's i3 grant application to the USDOE.
We probably have about the same chance of getting the grant as we would if we were looking for life on Jupiter. Well, in truth, I hope our chances may just be a bit better.
After all that work!!!!
I had heard some estimates floating out there as to the expected number of proposal submissions. Some have talked about upwards of 25,000; others have estimated the total around 2,000 What you say? Twenty-five what?!? Two-thousand what???

(As of Friday, May 14th, the USDOE's official tally of applications submitted to i3 is 1,669)
I had thought all along that the number of applications could even be as high as 50,000, for when you consider the number of eligible school districts (Local Education Agencies) with high need schools could number over 3,000, and then you consider that consortia of individual schools can apply, and then add into the mix the whole wide world of non-profits involved in education, including colleges and universities, charter management organizations, advocacy groups, etc., well 50K is not out of the realm of possiblity.
So, you may be wondering why anyone in their right mind, particularly in arts education would apply, considering the odds? A good friend and colleague recently told me she admired that we going ahead with it, considering the guidelines, work, and chances. Clearly she had read the guidelines.
First of all, I think we came up with a very good and very innovative idea, which I will save for another entry. Second of all, I just felt as if I would never forgive myself if we didn't apply, considering the size of the grants and the scarcity of funding.
I cannot tell you how many times I looked at the guidelines and was about a twitch away from calling my colleagues to drop the whole thing. Making the proposal work for arts education had that distinct feeling of having to shoehorn the proposal into a type of footwear, so to speak, that just didn't at all appear to be the right fit.
So, what might one predict as to the results, for arts education and i3?
First off, it's pretty clear that you're looking at something that is indeed a stretch for arts education, but not impossible. At the top level, for the up to $50 million "scale" grants, you would have to imagine that there will only be a handful of those grants and what is more, that those grants will most likely go to the expansion of charter schools. They're going to be very big projects with the type of activities and research that just don 't happen very often for arts education.
Then you have the up to $30 million "validation" grants, where there will certainly be a larger number of grants, one might guess, say somewhere around 10-20. Arts education has a better shot here, but again, it's going to be tough, with the exception of a very small number of large scale urban-based arts initiatives targeting high-needs students.
Finally there is the up to $5 million "development" grants, where upwards of 100 grants may be awarded. This would presumably be where the arts would have the best chance. That being said, one would have to predict this the category where the vast majority of applications will be directed.
So, what do I think of all of this while I travel up the Hudson, knowing that the send button will be hit any moment: "DC, we have ignition!"
Well, the grants areafter all focused on innovation. Although, the actual word "innovation" doesn't appear all that much beyond the title of the program, oddly enough. So, did it all propel my colleagues and me to come up with something innovative? Yup, I think it it did. High marks must be given to the USDOE on that count.
I am particularly curious about how all this will be processed and adjudicated. Aren't you? Talk about innovation, in this case it's clearly going to include innovation in grants management Having seen the NEA's pipe line for accepting online grants getting pretty bogged down over the number of applications transmitted for the arts stimulus funding, and having be forewarned by the USDOE to avoid transmitting on the day of the deadline for the AEMDD grants, both of which had a volume that is a mere faction of what is going to be traveling along the information superhighway today, well you have to wonder how this is ever going to be managed.
And that's just a question of intake. Even if the applications tend towards the low end, let's just say 2,000, how do you adjudicate 2,000 detailed applications, let alone anything up to ten times that number. Is there an algorithm for this?
I am going to ask a few of my grantmaking friends what they think about adjudicating something this big. It seems to me that it raises some very complicated questions concerning how you use a numerical scoring method, which is what the USDOE is using, on this scale. Wouldn't the sheer size of the applicant pool, particularly at the development category end, require a very deep level of numerical grading?
For example, what happens when you get 300 grants that have exactly the same score? Capice? Also, how do you assemble and manage an adequate pool of reviewers? As Johnny Carson used to say: "that's weird, wild stuff."
And, just now, as I finish up, I see an email from the USDOE: "e-Application Submission Confirmation."
Damn, DC, we do in fact, have ignition.
And, I kid not not, just the next day, Thursday morning, I was asked to sign a confirmation to be faxed to the USDOE, and it is addressed to the: Application Control Center.