I have to admit, that comment both was a potent pill, as it both pleased me and broke my heart. How could it be possible that the teachers feel so beleaguered? Well, one look at the major media around teaching and teachers, and well, you figure it all out in an instant. It was pleasing, of course, as an assessment of the all-day professional development conference. We got something right, that fed the spirit of this teacher and her colleagues on Saturday, May 15th.
Today, most of what you read in the media will lead you to believe that teachers are inept, gaming the system, and conspiring against children. Everyone in the so called school reform movement has come around to the sound bite that the quality of the teacher is the single most important factor in closing the achievement gap, etc. Everyone loves teachers, except for all the incompetent ones that are plaguing schools across America. And there is no lens through which to view career teachers than through their unions, or so says Steve Brill and The New York Times Magazine.
Here's another particularly interesting take on the whole thing, the issue of why teachers might feel put upon. Its a piece about the Deputy Chancellor of the New York City Department of Education proclaiming that two-thirds of the teachers in the New York City public schools are people one would not want teaching their children. I stand corrected, he really, only meant that the conference attendees wouldn't want their children taught by two-thirds of the teachers in the New York City public schools.
On Saturday May 15, The United Federation of Teachers Teacher Center and The Center for Arts Education joined forces for its second city-wide conference on arts education for this school year. With 165 teachers registered, we were looking forward to a big day. And, as much work as you put into it, you can never be sure of how it will go. After all, it was a Saturday session, on one of the few really nice sunny Saturdays so far this spring, so ultimately the teachers are there because they perceive some sort of value. There are no releases from class; no per diem payments; and you can be sure that folks will assess the program with their feet, by walking out the door if you've blown it.
It was a big and crowded program, and you have to take it for what it was: a one-day event. How much can you accomplish in one day? That was really the question we used as the overall frame for all of the planning discussions. Were this a multi-session institute, well, that would be a different story and different design altogether.
Here's the agenda for the day. Lots of territory:
Ufttc-cae 5 15 10 Agenda-final
One thing I have come to believe about teacher conferences as opposed to more broad-based arts and arts eduction conferences: teachers like to "do." They are practitioners. They're not wild about a lot of panel sessions and plenary speeches. They come to learn, and learn by doing is what they seem to thrive on. We learned that the hard way from the first conference we did last November.
In many ways this conference, which skimmed over many topics, was the sort of event that presented just enough hooks and just enough content for teachers to want to pursue the work further. Some teachers got hooked on the idea of creating podcasts, seeing a range of opportunities in having their kids share the podcasts with their parents on a regular basis. Others saw possibilities for incorporating podcasts into their school's website. Still others were struck by how the podcasts call for a range of different art forms and challenge the person to think about design.
Some were focused on learning how to fundraise and we surprised when we likened a good proposal to good curricular design.
Still others were there to learn how the arts can be the focus of career awareness and readiness. A number of guidance counselors attend specifically for that purpose.
But overall, the sense I got from the teachers, at what we like to call a" professional teacher conference" was the hunger they had to learn and experience, and a very clear desire to convert that learning into something new and positive for their students. Clearly, these teachers did not feel they were getting enough support, nor respect.
For those of you who would like to see a few photos, here you go. Some of you will recognize Hollis Headrick, who was a faculty member for the day, and his wife, Sonnet Takahisa, who simply popped in to say hi and collect Hollis.
The photos show a range of things, including teachers creating learning their way though GarageBand, iPhoto, working with Smartboards, and more.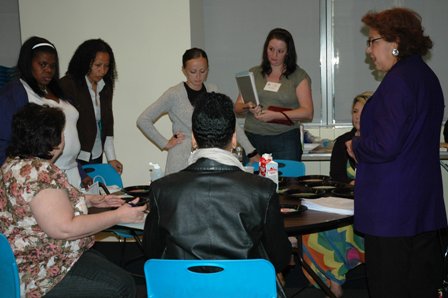 A master teacher from the UFT Teacher Center leads breakout session.
The making of a podcast.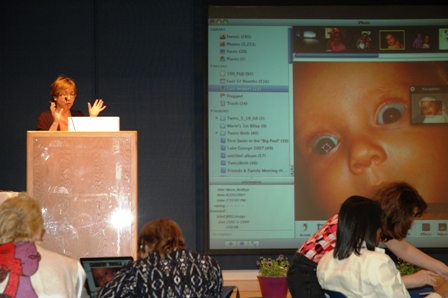 Learning how to use iPhoto.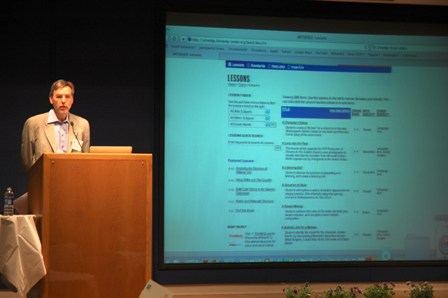 Hollis Headrick connects teachers to free curricula on the web.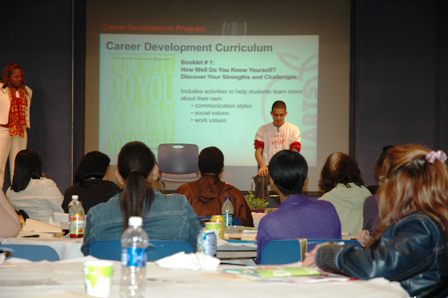 CAE's Career Development Program interns work directly with the teachers.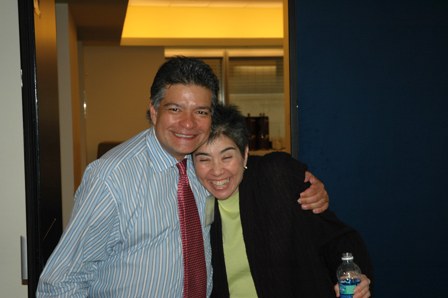 Our man at the UFT Teacher Center, Roberto Benitez and Sonnet Takahisa.
The conference viewed through a table of free resources.