Sotheby's Contemporary auction tonight was a mostly workmanlike affair, with one shining exception: Basquiat's vibrantly scary 1982 "Untitled" skull, the undisputed star in this week of major auctions in New York, leered at his puny presale estimate ("in excess of $60 million"), and powered his way to a $98-million hammer price ($110.5 million with buyer's premium).
The buyer, Yusaku Maezawa, announced his coup on Instagram, before Sotheby's could fire off an exultant press release: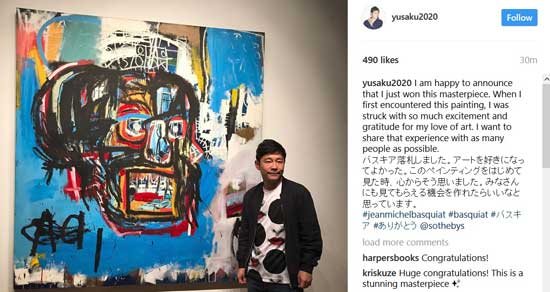 Maezawa also purchased the previous Basquiat record-holder, sold at Christie's a year ago:
His latest trophy set a new auction record for any work by an American artist. According to the press release, the painting "will eventually be housed in a museum based in Mr. Maezawa's hometown of Chiba, Japan," which (according to a profile in Forbes magazine) he "plans to build." Sotheby's threw in a bit of free advertising for Maezawa's business, describing him as "the founder of e-commerce giant, Start Today, and ZOZOTOWN, the virtual mall on Japan's largest fashion e-commerce site." Basquiat "Untitled" teeshirts, anyone?
The top lot accounted for more than a third of the 50-work auction's $319.2 million total (with buyer's premium).
Here are my live tweets on how the high point of tonight's auction went: