Late yesterday we learned that President Trump's proposed budget, released today, would do what we had feared: eliminate funding for the National Endowments for the Arts and Humanities, which, while minuscule in relation to the total federal budget, has been the lifeblood of large and small museums and arts groups across the country.
On page 5 of America First: A Budget Blueprint to Make America Great Again, the White House's Office of Management and Budget succinctly outlines "Major Agency Budget Highlights" (actually lowlights, in relation to arts and culture).
Unless Congress says otherwise, there will be no federal money for the Corporation for Public Broadcasting, Institute of Museum and Library Services, National Endowment for the Arts or National Endowment for the Humanities.
Here's the relevant passage (on P. 5 of the "Blueprint"):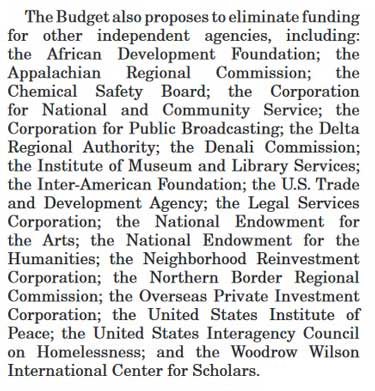 In today's NY Times Museums Section, the Museum of Modern Art put its money where its mouth is, taking out a full-page ad that should serve as a rallying cry: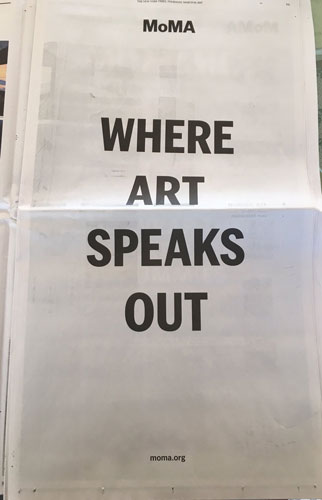 On the website of the Washington Post, whose new slogan is "Democracy Dies in Darkness," Philip Kennicott and Peggy McGlone double-team to shed light on this Worst-Case Scenario for Arts Groups that "would radically reshape the nation's cultural infrastructure."
The arts community is already piling on and #SavetheNEA is trending on Twitter. But the most arduous work lies ahead—convincing Congress that killing (or even reducing) arts support would be a sucker punch to America's spirit, identity and strength. You can't have a "Great America" without Great Arts.
Below are links to statements issued in reaction to the bludgeoned budget by the affected agencies and by art-and-museum organizations:
National Endowment for the Arts
National Endowment for the Humanities
Institute of Museum and Library Services
Corporation for Public Broadcasting
Association of Art Museum Directors
Americans for the Arts (with an action plan)