Arriving last week, my December issue of ARTnews magazine included an inserted letter, signed by Izabela Depczyk, publisher and CEO of Artnews S.A., informing subscribers that "ARTnews will be a quarterly publication, publishing four issues a year," beginning this February:
Today Artnews S.A. announced that Depczyk has resigned her positions for the usual cryptic reason—"her desire to pursue other career opportunities and projects." She is quoted as saying: "With the last month's milestone merger with the art media assets acquired from BMP Media Holdings LLC (Art in America, The Magazine Antiques and The Modern)…I consider my mission at Artnews fully accomplished."
Those three magazines were part of Brant Publications, mega-collector Peter Brant's publishing empire. His BMP Media Holdings is the controlling shareholder of Artnews S.A., an art-media business that is now traded on NewConnect, an alternative trading system of the Warsaw (Poland) Stock Exchange that "was specifically designed with less restrictive regulations and disclosure requirements in mind," according to the description on its website.
An Oct. 8 press release boasts that the newly constituted art-media company, Artnews S.A., achieved "profitability in the U.S. six months ahead of schedule, maintaining profitability of the print magazine ARTnews since May 2015, repositioning Skate's Art Market Research as the art business intelligence unit of Artnews S.A. and transforming Artnews.com as the growth leader in terms of digital audience and digital-only revenues among other art media peers."
Since Thursday, I've been trying unsuccessfully to get more information about the future of the magazine where I was once associate editor. ARTnews' longtime editor and publisher, Milton Esterow, sold the magazine in 2014.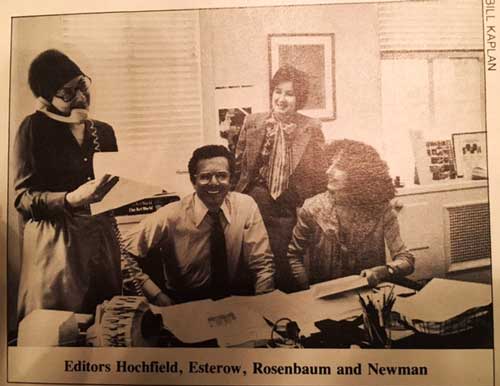 For now, all we have to go on is the monthly "Editor's Letter" introducing the latest issue, in which editor-in-chief Sarah Douglas describes this month's articles, including one by Ann Landi, which features extensive quotes from me but is not on the magazine's website at this writing.
In her letter, Sarah is conspicuously silent about the changes to come—an ominous sign?
The Oct. 8 press release from Artnews S.A. is likewise conspicuously silent about Douglas' title at the reconstituted magazine: It says that Lindsay Pollock "will continue as Editor-in-Chief of Art in America….Ms. Douglas will focus on further expansion of Artnews.com and ARTnews quarterly print issues."
What all this means for Sarah's editorial team is anyone's guess. One thing I do know is that Art in America's staff is expected to move into ARTnews' office—likely to be a tight squeeze, unless significant staff reductions are envisioned.
As I previously reported, ARTnews is expected to be reinvented as a series of "theme issues," along the lines of the Women in the Art World compilation last June (in which the National Academy's new interim director, Maura Reilly, played a leading role) and its yearly list of The Top 200 Collectors.
Meanwhile, I'm still trying to get an online link for Ann Landi's article, so I can share with you (and expand upon) my contribution to the last issue of ARTnews in the old format. If, as claimed, ARTnews is trying to beef up its online presence, the least it can do its promptly post links to its articles!