In a tribute to the late Walter Liedtke , posted Thursday evening (judging from when people started to link from it to my blog), Tom Campbell, the Metropolitan Museum's director, said the news that the museum's eminent, long-time curator of European paintings had died Tuesday (not Monday, as Campbell had written) in a Metro-North train crash "sent shock waves through the Museum….For 35 years, Walter had come and gone from the Met every day, and now that would never happen again."
Liedtke knew the Met's Dutch and Flemish paintings "like old friends," Campbell noted, "and described them with an intimacy and spirit that was mesmerizing. In fact, his distinctive voice was among his unique characteristics: careful and deliberate, but somehow lyrical in its unhurried measure. And he had opinions: deep, strong, expressive opinions. Those opinions and his vigor in delivering them will be among the many things that we will miss."
I'll also miss the absorbing exhibitions I was privileged to experience, including: The Age of Rembrandt, Vermeer and the Delft School, Vermeer's "The Milkmaid," Frans Hals and what, sadly, turned out to be his swansong—El Greco in New York (co-curated with Keith Christiansen).
When another reporter interviewed me a few months ago about what I thought constituted a good exhibition label, I had pointed her to one of Liedtke's informative, witty gems as Exhibit A: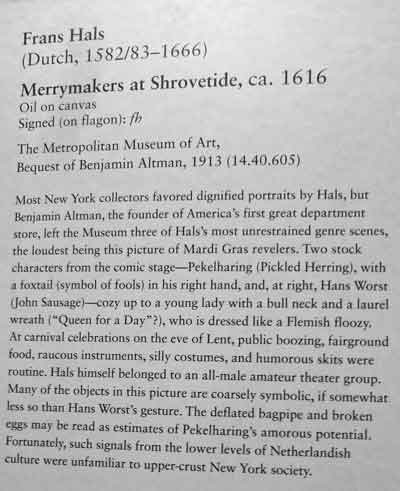 At the bottom of Campbell's blog post is a space where readers can leave their comments, to be shared with Walter's family during this difficult time.
He enriched so many museumgoers' lives!