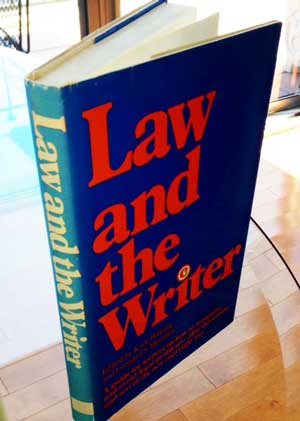 We all make mistakes. But Carol Vogel's NY Times-acknowledged lifting from Wikipedia (which I've already commented on here) and the recent retraction by the NY Review of Books' architecture critic Martin Filler of his factually wrong and allegedly defamatory statement regarding architect Zaha Hadid were gasp-inducing gaffes.
From previous coverage of Hadid's statements regarding migrant workers' deaths on Qatar construction projects, Filler inferred, with disastrous inaccuracy, that there had been "an estimated one thousand laborers who have perished while constructing her [2022 World Cup stadium] project [in Qatar] thus far." (There have, in fact, been no such deaths; construction on the Hadid-designed stadium hasn't yet started.)
Part of the confusion may stem from the headline for the Guardian report that published Hadid's quotes last February. While not inaccurate, it had confusingly conflated workers' deaths with Hadid's project: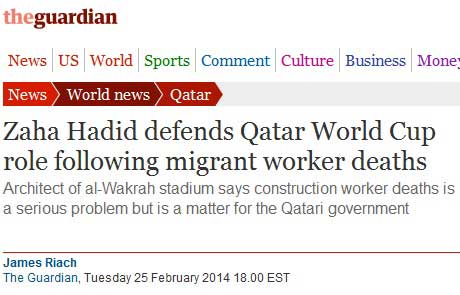 Taken in full, Hadid's Guardian-quoted comments do not seem as outrageously insensitive as these Filler-excerpted remarks make her out to be: "I have nothing to do with the workers. It's not my duty as an architect to look at it." Those sentences came from a NY Times Op-Ed piece that had quoted (and linked to) the Guardian's more extensive report. Context counts.
Before publishing a suggestion that an architect is callously unconcerned about purported loss of life on her project, fact-checking by the writer and his editors is not just optional; it's essential. This lack of due dilligence caused Filler and his publication to be slapped with a lawsuit seeking an immediate retraction (already made) and the removal of Filler's article from publication (still online at this writing), not to mention unspecified monetary damages and legal costs.
As to whether the writer's retraction will be enough to cause a lawsuit retraction, Hadid's lawyer, Oren Warshavsky, issued this cryptic statement:
Ms. Hadid together with counsel are reviewing it now and will respond after further careful consideration.
You can read Hadid's full complaint, filed in NY Supreme Court, here.
The third dark moment for art-and-architecture scribes this summer was the blackballing by Sotheby's of estimable art-market journalist Philip Boroff, formerly with Bloomberg (until it decimated its cultural coverage) and now senior investigative reporter for Artnet. As far as I can determine, Sotheby's alleged no inaccuracies in Boroff's report on the auction house's decline in private art sales, but complained of the "unfairness of this reporting."
When I asked Andrew Gully, Sotheby's director of communications, for details about what he regarded as unfair in the piece, and for the reasons why his firm had decided to penalize not just Boroff but his parent publication, he replied: "I don't comment on private discussions."
To my mind, Boroff's report was statistically accurate and perceptively analytic. Going beyond the press-release spin, as I did in my report on Sotheby's most recent earnings call with stock analysts, Philip spotlighted one important, problematic aspect of Sotheby's performance, which had been understandably deemphasized by the auction house. My focus was on the drop in net income—the key metric of profitability.
Boroff focused on the decline in Sotheby's private (non-auction) sales—$294.03 million for the first half of 2014, compared to $560.83 million during the same period last year. This is an area that Sotheby's itself had previously identified as important for future growth, as Boroff reported.
A subtext of his piece was the ground lost by Sotheby's to archrival Christie's. He mercifully neglected to mention, though, that Christie's has reported $828.2 million in private sales for the first half of this year, trouncing Sotheby's $294.03-million total.
It's not hard to understand why Sotheby's might be thin-skinned on this sore point. But a seasoned (and, to me, always helpful and fair-minded) press officer like Gully (formerly with Brandeis University) should know that uncovering unpleasant truths is part of a journalist's job description. Gully is not only taking out his pique on Boroff; he is also blackballing Artnet News, to which he wrote this note:
Going forward, the [Sotheby's] Press Office will not assist your reporters or editors beyond the minimum. I regret to say that, but given the unfairness of this reporting, you have left us with no choice.
As someone who has silently been on the receiving end of similar retribution—not by Sotheby's, but by an important nonprofit institution that almost a year ago removed me from its press list and stopped inviting me to press events—I have particular sympathy for similarly unfriended journalists. I also know of another comparable act of retaliation against an important arts journalist. Feeling more sorrow than anger, I chose not to squawk about my own situation. Although my blackballers may not be right, they're acting within their rights.
I can only hope that by writing this, I'm not encouraging other institutions to jump on this bandwagon. The free press should be as free to criticize as to praise. Those whom we cover should recognize this, and not expect us always to parrot their press releases.