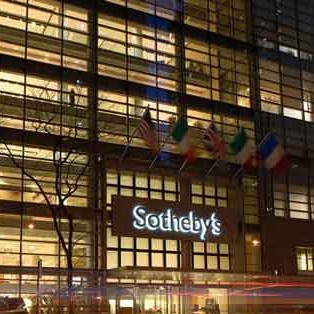 UPDATE: More on this, here.
"If Sotheby's thinks it can lose it, there's going to be a settlement before the actual vote." former activist investor Asher Edelman, told Philip Boroff of Artnet (formerly of Bloomberg) back in February, regarding the acrimonious proxy contest between the auction house and Dan Loeb's hedge fund, Third Point.
With this morning's announcement, just a day before the scheduled vote on Sotheby's and Loeb's competing board-member slates, Edelman's prediction appears to have come true: Both sides have called a truce, with Loeb getting the three new directors he was seeking, on a board that will be expanded to 15 from 12 members.
Sotheby's got an agreement from Loeb that his ownership interest in Sotheby's "will be capped at 15%." The question remains (unless it has been addressed in the as-yet-undisclosed details of the agreement) whether Loeb might be able to team up with other activist investors for greater influence.
Michael de la Merced in the NY Times calls this agreement, "a clear win for Mr. Loeb."
On Friday, Vice Chancellor Donald Parsons of Delaware Court of Chancery denied Third Point's request for a preliminary injunction to delay Sotheby's annual meeting and proxy vote until the court had a chance to rule on Loeb's challenge to Sotheby's poison-pill defense. In his Memorandum Opinion, Parsons wrote that "the proxy contest, as it presently stands, is a dead heat, and is likely to be determined by a relatively thin margin."
In light of this uncertainty, Sotheby's may have preferred to settle, rather than risk losing the vote.
The 67-page court opinion also sheds light on the details of the bitter dispute, quoting the auction house's CEO, Bill Ruprecht, describing Loeb in an e-mail as "a scumbag." The opinion also quoted a letter by Ruprecht stating, more constructively, that "engaging top shareholders with anything less than a specific plan of returning capital to shareholders…will hand the agenda to activists, who in turn will propose and win a proxy contest in March unless we take dynamic action beforehand."
Accordingly, in January Sotheby's announced the details of its plans for "creating and returning long-term value to shareholders and positioning Sotheby's to capitalize on future business opportunities and best serve its clients."
Loeb, who had used the words "dysfunctional" and "fractured" to describe Sotheby's in a strongly worded, widely publicized letter to Ruprecht in October, now says he is "committed to working closely with Sotheby's leadership team to unlock shareholder value." Ruprecht, whom Loeb once wanted replaced, now proclaims: "We welcome our newest directors to the Board and look forward to working with them."
Nevertheless, past history suggests that this is not likely to be a marriage made in heaven.
There may be more to learn when Sotheby's files a new Form 8-K with the Securities and Exchange Commission, which will include the text of "the complete agreement with Third Point," according to today's announcement. Meanwhile, Sotheby's annual meeting, which had been scheduled for tomorrow (Tuesday) morning, will be adjourned to a later (as yet unannounced) date this month.
It remains to be seen whether this marks the end of Sotheby's turmoil, which (as described in Chancellor Parsons' opinion) had prompted potential consignors to ask such questions as, "How can I trust you with my property?"
It may also have prompted Simon Shaw, Sotheby's worldwide co-head for Impressionist and modern art, to lead off Friday's press preview for the upcoming evening sales by emphasizing not the allures of the art but the quality of Sotheby's market performance and its achievements in "delivering for our consignors."
Here is his promo, followed by David Norman, worldwide co-chairman for Impressionist and modern art, extolling the May 7 auction's luminous Matisse, after which Shaw expounds on an important Giacometti: