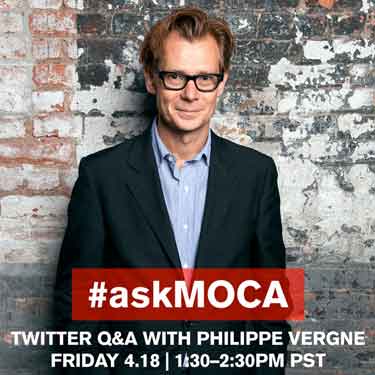 For those of you who may have been preoccupied by Good Friday and Easter preparations, LA MOCA today posted a Storify of its Friday #askMOCA Q&A on Twitter with its new director, Philippe Vergne. His cryptic replies—far less than the 140-character limit, for the most part—weren't all that illuminating. But he does get points for his display of openness to hearing (and possibly addressing) the interests and concerns of MOCA's constituents.
Wait a minute! What happened to my own #askMOCA tweet and Vergne's response? They were excluded from the museum's Storify compilation. I thought I had asked a reasonably useful (and nonconfrontational) question that received a cogent response. Was this omission inadvertent, or a reaction against my previous unfavorable coverage?
Who knows? For what it's worth, though, here's our #askMOCA Twitter exchange: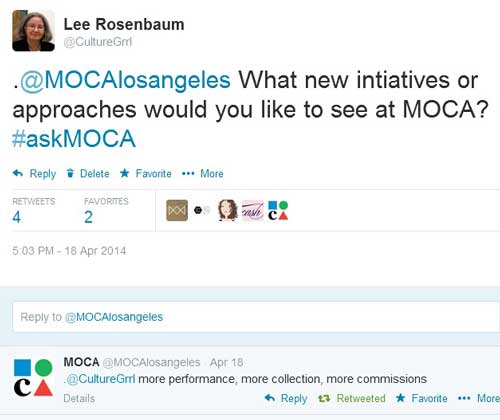 Here's another good question that never got answered on Friday, possibly because Kevin Murphy, American art curator at the Williams College Museum of Art, neglected to include the #askMOCA tag with his query: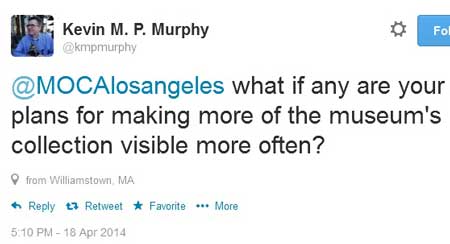 Since the superlative classic contemporary works in MOCA's permanent collection are too seldom seen, that's a question crying out for an answer.
UPDATE: MOCA has tweeted that the omission was an oversight.