My Tuesday post, in which Chris Crosman and I criticized the Art Everywhere billboard initiative (featuring blow-ups of 50 American artworks from five U.S. museums, sparked a debate on my Twitter feed (see below), as well as this detailed response from Nancy Fletcher of the Outdoor Advertising Association of America, sponsor of the billboard project:
I have been the Outdoor Advertising Association of America's president and CEO for more than 15 years and am responsible for implementing the Art Everywhere project. While I certainly respect your opinion, please allow me correct a few misconceptions.

First, the U.S. billboard industry is not foundering. The Carol Vogel article you reference from the NY Times was inaccurate and misleading [see below]. The Out of Home industry [i.e., advertising in publicly accessible spaces] is not struggling and Art Everywhere was not launched out of desperation, as Vogel's article suggests.

Over the past five years, the OOH industry has experienced positive revenue growth and the medium has grown each of the last 15 consecutive quarters. OOH is the second fastest growing core ad channel, second only to online.

[Vogel had reported: "Revenue for the outdoor advertising industry fell at an average annual rate of 1.6 percent over the five years preceding 2013, according to a report last fall…Revenue is beginning to improve." She also quoted Rob Schwartz, global creative president of advertising agency TBWA, who said, "The outdoor industry is under threat."]

The OOH industry donates more than $450 million annually in pro bono media space to public service campaigns. This is a legacy of giving that spans more than 100 years.

Art Everywhere first appeared in the UK last summer and the public response was very positive. We believe bringing great American art to the America people is a good thing. Our hope is that it may inspire people to learn more about art or visit a museum.

Finally, to answer your last question in the post, all the living artists represented in the Art Everywhere program where contacted and each one granted permission to use their artwork for Art Everywhere. I am sorry you think Art Everywhere is akin to visual pollution. I respectfully disagree.
Below is the discussion that enlivened my Twitter feed yesterday, kicked off by a link to my CultureGrrl post by Ellen Gamerman, arts and culture reporter for the Wall Street Journal. That was followed by a pert riposte by Max Anderson, director of the Dallas Museum of Art, who has been a spokesperson for Art Everywhere, as seen this screenshot from the project's promotional video: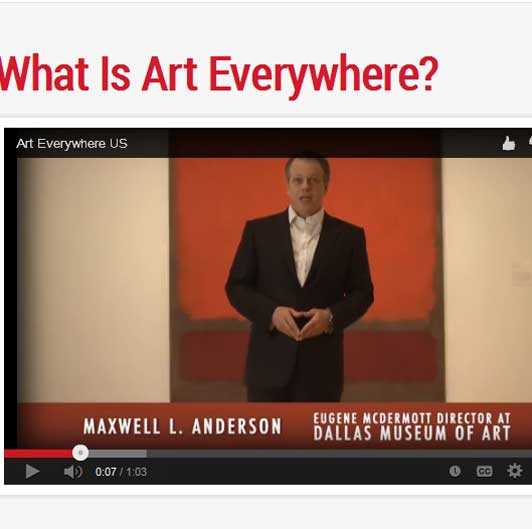 Here's the discussion that yesterday enlivened my Twitter feed: