As you probably know by now, ArtsJournal and its blogs got knocked out for a couple of days by a massive bot attack, which slammed the site with traffic. Did someone not like something we published? (Probably my fault!)
Another kind of online mischief was recently directed against the Guggenheim, which has recently been the target of protest demonstrations inside its New York museum, regarding the planned Abu Dhabi facility, designed by Frank Gehry.
As reported by Mostafa Heddaya of Hyperallergic on Friday, someone sent out a bogus press release (which, mercifully, missed me) with links to a website apeing the Guggenheim's genuine website. It announced an "open competition to redesign Guggenheim Abu Dhabi."
Max Anderson, director of the Dallas Museum of Art (and apparently not a Hyperallergic reader), saw the bogus announcement and today fired off this tweet from @MaxAndersonUSA, with a link to the bogus website: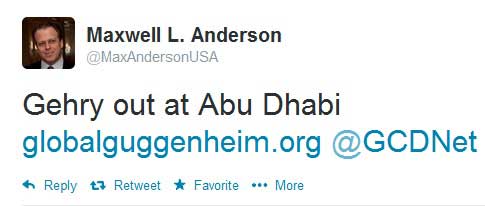 He deleted that tweet and acknowledged the error after I pointed out (replying on Twitter) that the Guggenheim had issued this corrective on its authentic website.
I live in a glass house: As CultureGrrl readers may remember (and as I'd like to forget), I once fell for a Crystal Bridges-related hoax. When something seems highly improbable, we need to examine the URL to see whether it is the same as the authentic website address for the organization in question. Better yet, we can check with the organization itself, on its website or by phone.
As for the substantive issues raised by the Guggenheim demonstrators, I'm second to none in my concerns about working conditions and human rights in Abu Dhabi. And in a NY Times Op-Ed piece on Friday, Andrew Ross of Gulf Labor, a coalition of artists and writers concerned about working conditions on Abu Dhabi's Saadiyat Island, described the "darker story behind the shiny facades of these temples to culture, arts and ideas."
That said, I believe the Guggenheim is sincere in saying (in a statement reported by Hyperallergic) that human rights are "a top priority for discussion" with Abu Dhabi officials and that earlier this month "our director [Richard Armstrong] revisited the workers village to ensure that living conditions for workers who will work on the Guggenheim Abu Dhabi will set new and respected standards for workers engaged in building other projects on Saadiyat Island."
Whether they can succeed in effectuating needed reform remains to be seen.