He shoulda been there.
Ken Price, the category-crossing Los Angeles ceramicist, sculptor, painter and draftsman, had been intimately and enthusiastically involved in planning his dazzling retrospective, which opened last September at the LA County Museum of Art. He co-designed the installation in close collaboration with his long-time friend, architect Frank Gehry. But like the recent John Chamberlain retropective at the Guggenheim Museum, this long-planned exhibition sadly became a posthumous homage to a contemporary artist with a long, distinguished career. (Price died last year at 77.)
A 73-work version of the show opens today at the Metropolitan Museum (to Sept. 22), after a larger version (about 100 pieces) enlivened LACMA. The show also traveled to the Nasher Sculpture Center, Dallas, on its eastward journey to the New York, where it is this city's first major museum exhibition of Price's perky oeuvre.
Price's creative fires flared before they sputtered, in a luminescent climax of lusciously hued, sensuously shaped protoplasmic oozes that began to emerge from his kiln in the 1990s. The Met's installation is unconventionally arranged in reverse chronological order, leading from strength:
Unlike most of the seductive late-career biomorphs in the show, the four pieces above were installed in a Gehry-designed case (modeled on smaller Price-designed cases) in the introductory gallery, instead of being posed "naked" atop pedestals, as the artist himself had wished:
The special treatment for the four introductory pieces had nothing to do with their perceived importance. It was necessitated by lenders' fears that their treasures might be fondled by smitten visitors. One of these cautious lenders was the Museum of Modern Art, owner of the white piece ("Arctic," 1998) and the green piece ("Phobia," 1995) in the introductory case, both gifts of the late Edward Broida. Alarms (not yet activated for the press preview) will sound if you venture too close to the explosed pieces.
I did venture close to get a good look at "Zizi's" mottled, variegated surface, which looked to me like the skin cells (with nucleii) of a creature from another planet:
While the late works are all his own, the earlier pieces clearly show the influence of other artists.
This, for me, evoked Archipenko:
I could swear these little morsels of fired and painted clay were inspired by Scott Burton's monumental chairs, hewn from rock:
In the CultureGrrl Video, below, you'll hear Gehry speak of Price's struggles at the end of his life to created more monumental pieces. ("He was messing around with big stuff.") They were made by scanning Price's small models, enlarging them in bronze and spray-painting them.
Here's the one example in the Met's show:
Now join me as Met director Tom Campbell, Gehry, and Met curator Marla Prather (recovered from her broken leg and the Met's critically panned Warhol show) pay homage to Price's life and work. (You'll hear the always blunt Gehry's disparaging remarks about the Met's previous shows in the same space, and Campbell's graceful rejoinder.)
Here's a view of Gehry's installation at the Met, looking towards the beginning of the show: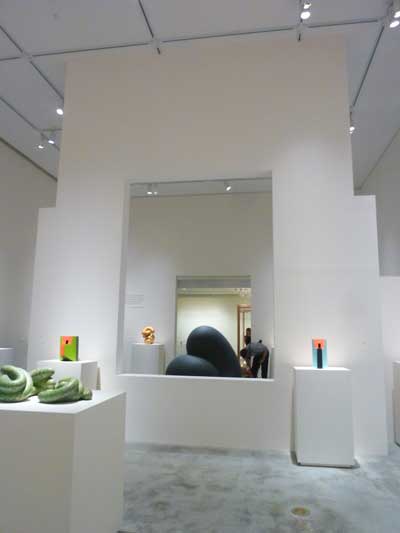 Although present, LACMA's director Govan didn't speak. But he did pay homage to Gehry by getting down on his knees to talk to the seated architect at eye level, just before Campbell bent over to shake Frank's hand:
At the end of the video below, you'll hear some fascinating details about how this masterful shapemaker and colorist created his delicately embellished clay compositions, as explained to me by the show's curator, Stephanie Barron of LACMA. Although, like Govan, she didn't formally address the assembled press (deferring to the Met's professionals), Stephanie did shed much light on the objects that she had assembled, in her one-on-one conversation with me: