It's the auction houses' job, during the run-up to the big spring sales, to hype the robust state of the art market and the importance of works being offered. But while there are some notable highlights, there's nothing to "Scream" about in this spring's major Impressionist/modern sales at Sotheby's and Christie's, scheduled for tonight and tomorrow night, respectively.
Brett Gorvy, chairman for postwar and contemporary art at Christie's, described the offerings in his firm's spring Impressionist/modern and contemporary sales as "very comprehensive and commercial." Collectors are "choosing this moment" to sell, he asserted, because "the market is truly responding at a global level." (I later asked if another reason might be that they think the market has just about peaked; he assured me that's not the case.)
"It's a masterpiece market," Gorvy added. If so, that might not bode well for the less-than-top-notch merchandise that always constitutes the bulk of auction sales, even the most important ones.
In her auction preview for the Wall Street Journal, Kelly Crow reckoned that some $1 billion worth of Impressionist, modern and contemporary works will be offered by major New York auction houses in the next two weeks. She further noted that "bigwig sellers who know how to gauge the art market's cycle" had consigned major works, suggesting that we're in "a seller's market."
Some of those "bigwig sellers" aren't "gauging the market." They're dead and their estates that are selling. As you will hear in the CultureGrrl Video below, some 40% of the works in Sotheby's major Impressionist/modern sale tomorrow come from collectors' estates, including that house's top lot (above) Cézanne's "Apples," 1889-90, estimated to bring $25-35 million, from the estate of Alex and Elisabeth Lewyt, who were important donors to the Metropolitan Museum.
Christie's Impressionist/modern sale on Wednesday puts particular focus on what department head Brooke Lampley described as masterpieces by lesser known artists, such as this Fauve portrait by Derain (which she effusively praises in my video):
In one-on-one conversations with me at the auction press previews on Friday, specialists at both houses noted excitedly that new buyers are entering the market at the top levels. Gorvy observed that four or five collectors "who can spend $50 million" have arrived on the scene in the last few years. One of them revealed that he had $200 million to spend on art, Gorvy told me.
David Norman, Sotheby's co-chairman for Impressionist and modern art, said that new mega-collectors are coming from "countries where there's been a boom—in Asia, Brazil and Russia." (China, which has recently experienced a market correction, was notably omitted from his list.)
Norman added that the new buyers, some of whom "are interested in trophies, to give a sense of arriving in the international community," have caught the collecting bug from "exposure to wealthy collectors in other parts of the world. So I think their familiarity with Western art is coming through exposure to other collectors of this magnitude. Instead of their starting at [the more modestly priced] day sales, getting their feet wet and getting a growing confidence and sophistication, they kind of just start there" (at the highest price levels).
It remains to be seen whether these these deep-pocketed nouveau buyers will stretch for what Crow of the WSJ described as "unusually aggressive asking prices…this season." There will be no suspense, however, about whether the painting pictured below, on the cover not only of the Christie's catalogue but also of the artist's catalogue raisonné, will set a new auction record for Soutine tomorrow. A third party is bankrolling a guarantee at the level of the low estimate, which (when buyer's premium is added) means that a new auction record is assured, according to Gorvy:
As it happened, I ran into the co-author of the Soutine catalogue raisonné at Sotheby's cafe:
When I asked Maurice Tuchman about the pastry chef, he affirmed its importance, but also expressed admiration for the other Soutine being offered at the same Christie's sale. In the auction house's catalogue, Tuchman states that this painting, unknown to him when he originally worked on the artist's catalogue raisonné, will be included in "a third volume, currently in preparation":
Even the most touted highlights in the upcoming auctions, while important, aren't always at the top level of what one would most want from an artists' oeuvre. Most of consummate masterpieces in the Impressionist/modern category reside permanently in museums. A work that an auctioneer calls "iconic" may sometimes be more accurately described as "the best of what's still in private hands."
For example, the price of this early Modigliani, offered by Sotheby's…
…would be eclipsed by what this masterpiece would fetch, if it were available:
Then again, this Picasso: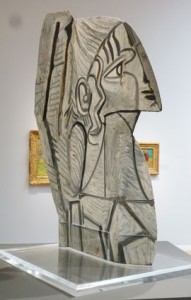 …seems to me even more alluring than another folded-metal rendering of the artist's beautiful young model, Sylvette David, that I had admired in the Guggenheim's recent "Picasso Black and White" show: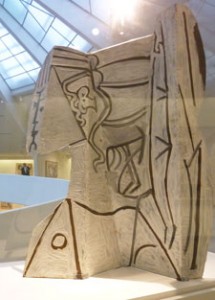 Come hear for yourselves the sales pitches of experts from Sotheby's and Christie's in promoting their Impressionist/modern wares last week to the scribe tribe. (Contemporary sales take place next week.)
[UPDATE: The video was not publicly accessible when this post went live, but I have now fixed the settings and it should be available shortly.]
We begin at Sotheby's with Simon Shaw, who relates an interesting (and to me previously unknown) anecdote about where the seller of Munch's "The Scream" at Sotheby's last May had wanted it to go: