In a series of tweets (with photos) that I posted @CultureGrrl earlier today, I essentially said all I'm going to say about the Metropolitan Museum's disheveled, disjointed, dismaying Punk: Chaos to Couture (May 9-Aug. 14).
Here's my first of several salvos against a show that I put down as "theatrics without substance":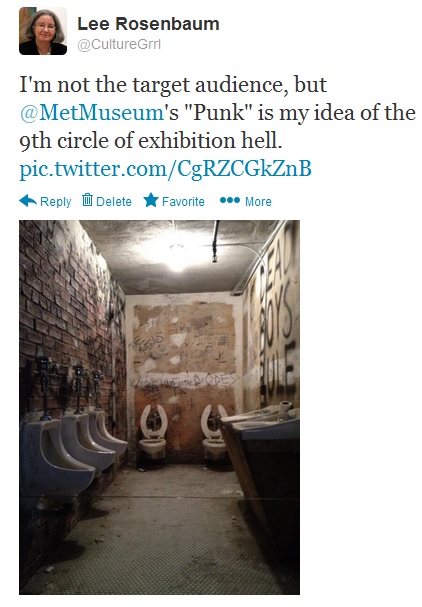 My photo, taken near the entrance to the exhibition, shows the Met's recreation of the bathroom at the punk rock mecca, CBGB—an installation inspiration that, as one of my Twitter followers later informed me, was not original to the Met. The Wadsworth Atheneum, Hartford, had already done this three years ago. You just can't keep a good idea down.
You can't get a coherent sense of the music or the scene from the fragmented audio and the blurred, jumpy video clips. The transgressive fashion (and anti-fashion) statements quickly lose their power to shock.
If you really want to, you can listen to what Tom Campbell told us at the press preview about the exhibition, here. What his presentation mainly tells us is that the Met's director urgently needs a speaking coach to stop him from constantly burying his head in his prepared text.
If you're having a really slow evening, you can watch (also here) the livestream of the red-carpet arrivals at the Met's Punk gala (an oxymoron?), which began today at 7 p.m.
Until this show spoiled it, the Met had actually been on a roll, with a series of engaging, erudite and eclectic exhibitions that are currently featured on its outdoor banners:
But "Punk" is a clunker.