In my last post, pegged to my Crafty Collector article in today's Wall Street Journal, I mentioned that I had interviewed the collector who is the subject of an exhibition now at the Smithsonian's Sackler Gallery (to July 7)—the late psychiatrist and Chinese art specialist Paul Singer.
What I didn't tell you was how I got to know him.
In September 1978, I published an exposé in ARTnews about "The Met's Sackler Enclave: Public Boon or Private Preserve?" My article uncovered a private preserve at the Metropolitan Museum that had been given over to the Chinese art collection and personal curator of Paul Singer's good friend, Arthur Sackler, also a psychiatrist, as well as a medical publisher. For my article, I visited that object-packed space, viewed some of the ancient bronzes and jades and talked to Lois Katz, Sackler's curator.
Sackler's eventual decision to give his Chinese art collection to the Smithsonian, rather than to the Met, was said to be, in part, a reaction to the negative publicity that he had received regarding that problematic private enclave.
Singer had been hired by the Met (with funds from Sacker) as a "research fellow-consultant" in the museum's Far Eastern art department. His chief assignment was the preparation of a catalogue of Sackler-owned works, for an eventual Met exhibition (which never happened):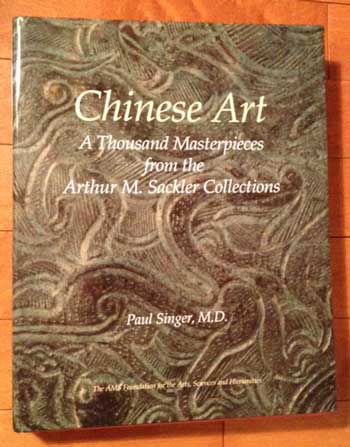 When I interviewed Singer for my ARTnews article, I became sufficiently intrigued by his own collecting story to pay him a visit at his two-bedroom apartment in Summit, NJ. It was a fascinating conversation, some of which was recounted in today's WSJ article.
Also fascinating (but more subdued) was the conversation I had late last month with J. Keith Wilson, the curator of ancient Chinese art at the Smithsonian's Arthur M. Sackler Gallery and the adjoining Freer Gallery of Art.
In a moment, we'll join him on a 10-minute CultureGrrl Video tour of the current Singer exhibition. But first, here's an excerpt from what Wilson told me, before we entered the galleries, about Singer's eccentric collecting spree:
What I take away from the Singer story is you can be self-taught; you can collect in an area where you can't read the scholarly journals [Singer couldn't read Chinese]; you can collect in an area where there is very active archaeological discovery going on that you can only participate in at arm's length.

He didn't go to China until 1980. So up until that time, his insights into Chinese art came through his own self-cultivation in determining what was authentic and what was not—testing those understandings and having scholars help him understand what Chinese archaeological journals were saying. I think it's astounding that his success rate was so high….

There's a kind of arrogance there, that it can be encapsulated—that with 5,000 objects, you can summarize the entire material cultural of China for 5,000 years. I think that, in his mind, he may have had that ambitious goal.
At the end of this video, after he sheds light on a few key objects, you'll hear Wilson describe just how the relatively modest Singer pieces have added an important new dimension to the Asian art holdings that came from the Sackler/Freer's two other major collector/benefactors—Arthur Sackler and Charles Freer: