Aside from Crystal Bridges Museum's recent major upheavals in staff, there has been an impressive number of major developments at the Bentonville, AR, museum that Alice Walton built. Its collection has been beefed up with about 2,000 new works (including works on paper), including gap-fillers such as one just announced this afternoon, which Crystal Bridges will share with the Metropolitan Museum:
Trumbull's "Hamilton" had been hanging at Crystal Bridges, on loan from Credit Suisse, beside Gilbert Stuart's iconic "Constable Hamilton" portrait of George Washington, which owes that designation, in part, to the identity of one of its previous owners (and now Crystal Bridges neighbor), Alexander Hamilton. As I mentioned in my CultureGrrl Video Tour of Crystal Bridges, shot shortly after the museum's 2011 opening, Crystal Bridges owned no Trumbull. (You can see both the Trumbull and Stuart starting at 5:10 in the video clip.)
The museum has also addressed its dearth of folk art, which I had noted in my video tour. It now owns this:
And it has plugged an Abstract Expressionist hole with this:
Importantly for a museum in a town named after Thomas Hart Benton's family member, Crystal Bridges has added this to its previously minor holdings of that artist's work:
What it hasn't yet done is assemble a robust program of major exhibitions, organized in-house. That may soon change: Although Crystal Bridges has said little about its new "strategic plan" (which former director Don Bacigalupi is to oversee in his new position as president), this job description for the newly created position of "Assistant Curator—Special Projects" provides a strong clue as to where the professed plan for "engag[ing audiences" and "global initiatives" is going:
In concert with the Museum's Strategic Plan, a significant new initiative focuses on a major exhibition program with national and international presence [emphasis added]. Working with the Museum President on the development of this multi-year program, the Assistant Curator will work to coordinate all activities related to the planning, creation, selection, scholarship, interpretation, and publication of the exhibition content and its travels.

The Assistant Curator will conduct advance research and correspondence with colleagues, artists, dealers, and academics; coordinate and participate in research travel and studio visits nationally; work closely with registrars to coordinate transport and movement of works of art; develop the plan for writing, editing, and publication of a major catalogue and auxiliary interpretive materials; coordinate communication and negotiations with international venues for the traveling component of the exhibition program; and other duties as assigned.
Well positioned to advise on "international presence" is the museum's newest board member, Elizabeth Glassman, who, as president and CEO of the Terra Foundation for American Art, repurposed the collection of the late Daniel Terra after his Chicago and Giverny museums both closed. The Terra Foundation under Glassman has implemented an active program of art loans, both in the U.S. and abroad and has partnered with Crystal Bridges, the Louvre and the High Museum of Art on multi-year exhibition collaborations.
For now, Crystal Bridges visitors can get a dose of middle-of-the-road Americana at the recently opened Norman Rockwell exhibition (to May 17), organized by the Norman Rockwell Museum, Stockbridge, MA, and installed by Crystal Bridges curator, Kevin Murphy. He recently posted this photo of his handiwork on his Twitter feed: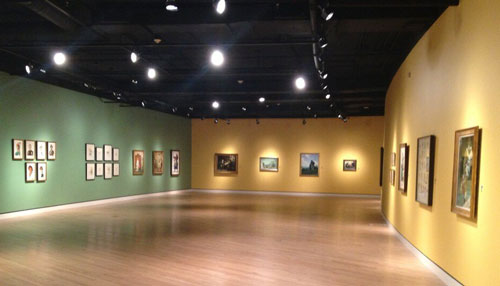 Wait a minute! While we're on the subject of shared artworks (the original news peg for this post), what about Crystal Bridges' most famous (or infamous) art-sharing arrangement?
Laura Jacobs, the museum's director of communications, today told me this about the American modernist collection given by Georgia O'Keeffe to Fisk University, in which Crystal Bridges now owns a half-share, purchased from Fisk for $30 million:
The Stieglitz Collection will be on view starting in October in our temporary exhibition gallery.